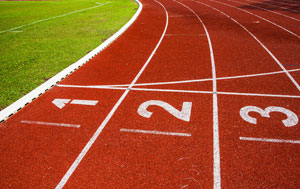 The United States Anti-Doping Agency (USADA) announced today that Michelle Collins of Raleigh, N.C., an athlete in the sport of track & field, accepted a four- year suspension and disqualification of her competitive results. Collins, 34, will withdraw her pending appeal before the Court of Arbitration for Sport (CAS).
In the summer of 2004, USADA charged Collins with committing various violations of the applicable anti-doping rules based on documents obtained from BALCO and received by USADA from the U.S. Senate. In December 2004, following a full evidentiary hearing, an independent three-member arbitration panel from the American Arbitration Association(AAA)/North American Court of Arbitration for Court (CAS) determined that Collins committed a doping violation and suspended her for eight years for her participation in the BALCO doping conspiracy and for her use of prohibited drugs including tetrahydrogestrinone (THG) and erythropoietin. Collins subsequently appealed that decision to CAS.
"We are pleased that Ms. Collins is being held accountable for her actions," said USADA Chief Executive Officer Terry Madden. "This four-year suspension is in line with other cases we have resolved involving athletes associated with the BALCO drug conspiracy."
Collins' four-year suspension will run through July 17, 2008. Additionally, she forfeits her 2003 200m World Indoor and USA Indoor Championships titles. USA Track & Field, the national governing body for the sport in the United States, will carry out the sanction.
Collins' case was the third non-analytical positive case involving athletes associated with BALCO resolved by USADA. In five of the 13 total BALCO- related cases, independent arbitration panels issued sanctions following full evidentiary hearings. Ten athletes have received sanctions for testing positive for THG or modafinil, two of the drugs linked to BALCO. In six of the 10 cases involving THG or modafinil, the athletes, with the assistance of counsel, accepted the sanction recommended by USADA for their respective drug violations.
USADA is responsible for managing the testing and results management process for athletes in the U.S. Olympic and Paralympic Movement. USADA is equally dedicated to preserving the integrity of sport through research initiatives and educational programs.
---
For more information or media inquiries, click here.