[vc_row margin_top="-50″ full_width_row="true"][vc_column][vc_column_text]

[/vc_column_text][/vc_column][/vc_row][vc_row][vc_column width="3/4″][vc_column_text]Sometimes, doing something good for your community means climbing stairs on a Saturday morning. So that's what 12 members of the USADA family did on June 23 for the fourth annual Children's Hospital Colorado Climb for Courage and Family Festival.
Starting at 8:30, USADA staff sprinted up the stairs of the U.S. Air Force Academy's Falcon Stadium in a timed race, fueled by their unyielding competitiveness and fundraising efforts. The team members less interested in a sprint had a turn at the stairs during an untimed Fun Wave. USADA staff also contributed by setting up the event beforehand and manning a water station to keep racers hydrated on the warm summer day.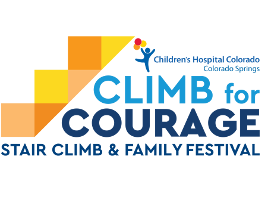 The fundraising event supports Children's Hospital Colorado's efforts to grow its pediatric health system in the region by building a new children's hospital in Colorado Springs. With the new hospital, children in southern Colorado will have access to one of the top children's hospitals in the country. The hospital, which is scheduled to open its doors in 2019, will deliver world-class experts to ensure that children have access to the best care and latest breakthroughs without traveling too far from home.
More information about Climb for Courage and Children's Hospital Colorado is available here.
Climb for Courage is one of the many community initiatives supported by USADA staff. USADA encourages and supports volunteer work, whether it's fundraiser support or unpaid Board of Director positions, through its Volunteer Program. The Program ensures that full-time staff members have 25 hours of volunteer leave each year, which they can use to support meaningful initiatives that they care about.
Click here to learn more about USADA and the opportunities to join our team.[/vc_column_text][/vc_column][vc_column width="1/4″][vc_widget_sidebar sidebar_id="sidebar_10″][/vc_column][/vc_row]