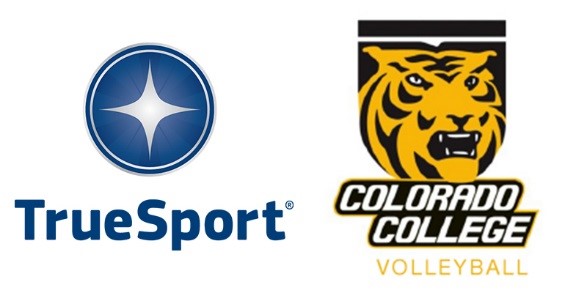 TrueSport, a movement powered by the U.S. Anti-Doping Agency (USADA), is pleased to announce its third year of partnership with Colorado College Volleyball Camps, which will bring fun and engaging values-based education to over 250 volleyball athletes this summer.
Through six camp sessions varying in skill level and age, each child will learn about topics such as, leadership, goal-setting, teamwork, and nutrition. Each camp is designed to improve skill sets, enhance complete player development, and build confidence in each individual athlete's ability, while also teaching the values and life lessons learned through sport.
The camp sessions will be led by CC Volleyball head coach, Rick Swan, who has over 25 years of experience in both coaching and leading summer volleyball camps. During the sessions, campers will rotate to different stations throughout the day comprised of various volleyball techniques, as well as a classroom setting where athletes will be exposed to numerous TrueSport lessons.
"The TrueSport session is a special part of our camp program. Each day we have small groups of campers take part in lessons like goal-setting, teamwork, respect and accountability," said CC Volleyball head coach Rick Swan. "Our past campers have really enjoyed this part of camp and look forward to learning about opportunities to make themselves better athletes off the court."
Throughout the camp, each child and parent will be encouraged to take the TrueSport pledge and uphold the values of courage, respect, teamwork, integrity, and responsibility.
"TrueSport is honored to be partnering with CC volleyball camps for our third straight year," said TrueSport business development manager, Lisa Voight. "Coach Rick Swan and his team have been tremendous supporters of the TrueSport program and we look forward to another successful summer program providing values education to his athletes."
Camp Dates:
Youth Skills: June 2 – 3 (Grades 2-8)
Advance Skills: June 6 – 8 (Grades 7-12)
Position Camp: June 9 – 10 (Grades 7-12)
Prospect Camp: July 22 – 24 (Grades 9-12)
Advance Skills: June 25 – 27 (Grades 7-12
Youth Skills: July 28 – 29 (Grades 2-8)
For more details on the TrueSport and the Colorado College Volleyball partnership, visit us at TrueSport or CC Volleyball Camps.
Colorado College Volleyball Contact
Rick Swan
719-389-6485 or rswan@coloradocollege.edu