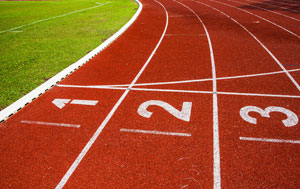 TrueSport, a movement powered by the U.S. Anti-Doping Agency (USADA), is pleased to announce that its partnership with Landsharks Running Club, a school program and camp that educates and influences children in the sport of cross-country and track and field, has been extended for a third year.
Over the next 12-months, more than 6,000 children will learn about topics such as leadership, goal-setting, teamwork and nutrition through TrueSport's values-based curriculum and education. The TrueSport lessons will be taught at roughly seventy-nine elementary schools throughout Colorado, including Lewis-Palmer, Bear Creek, and Manitou Springs. Lessons will be taught during both the spring and fall seasons through a six-week program led by coaches and parent volunteers.
"We are thrilled to expand our partnership with Landsharks Running Club to include school programs, which will go a long way towards educating and inspiring more children across Colorado," said Christina Seel, TrueSport event and program lead.
Along with the school program, TrueSport lessons will continued to be delivered at all camps in order to reinforce the values learned through sport. Each child and parent will be encouraged to take the TrueSport pledge and uphold the values of courage, respect, teamwork, integrity, and responsibility.
"The partnership between Landsharks Running Club and TrueSport has been invaluable. Since day one of Landsharks, we have taught our Positive Motivation Principles, which align exactly with the positive values and character traits of the TrueSport philosophy. By working together, TrueSport has provided us with tools and support, which enhances the teachings of our shared principles," said Kathy Rex, executive director and co-founder of Landsharks Running Club.
School Program / Camp Dates:
Spring School Program: March 28 – May 9 (Grades K-6)

Race Dates: April 17/18, 24/24, and May 1/2

Introduction to Track Camp: June 6 – 16 (Grades 1-6)
Cross-Country Preparation Camp: August 1 – 11 (Grades 2-6)
Fall School Program: August 29 – October 10 (Grades K-6)
JO Cross Country Camp: October 5 – December 10 (Ages 7-14)
Since 2000, the Landsharks has provided children between the ages of 5-18 with experiences that benefit both their physical and psychosocial health. More than 30,000 children have participated in their camps and year-round school programs that focus on self-improvement, being an encouraging teammate, and making new friends.
For more details on the TrueSport and the Landsharks Running Club partnership, visit us at TrueSport or Landsharks.