To be a successful swimmer and teammate, I have to make sure my body is properly fueled all the time, which I know I can do just by eating the right combination of healthy foods throughout the day. If you're wondering how an Olympian and Team USA swimmer stays fueled with food, keep reading to see what I'm eating for breakfast, lunch, and dinner.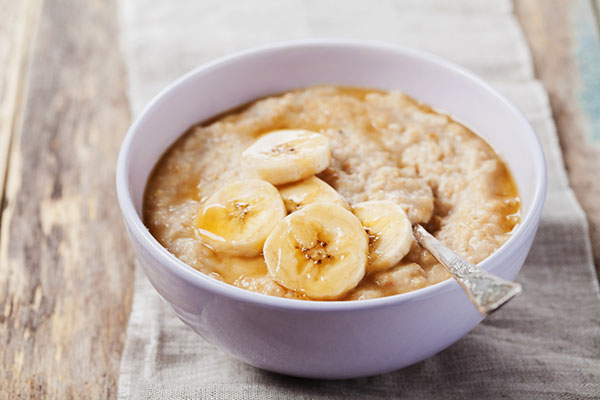 My go-to breakfast is steel cut oats, brown sugar, natural peanut butter, cinnamon, and a sliced banana. I like the combination of these ingredients for breakfast because I feel like they hit all the bases…the steel cut oats, peanut butter, and banana give me the sustained protein and carbs to have a great workout, while the brown sugar and cinnamon give me the flavor I need to look forward to this breakfast every morning.
In terms of fueling, the oatmeal will keep me going for my hour and a half swim in the morning, and after my swim, I come home for a second breakfast before I go to weights. I'll have my first breakfast about 35 minutes before my morning swim.
On competition days, however, I'll have breakfast about an hour and a half before my first event. When I'm competing, I'll also have more than just a bowl of oatmeal. I typically have eggs, waffles, protein, and fruit to keep me sustained for longer.
THE SCIENCE: When an athlete works near or at maximal intensities, carbohydrates are the prime fuel the body can use. During prolonged exercise such as cycling, triathlons, and long-distance swimming, the amount of fats and carbohydrates used may rise and fall depending upon: duration and intensity of the exercise; an individual's fitness level; food and drink consumed prior to and during the exercise.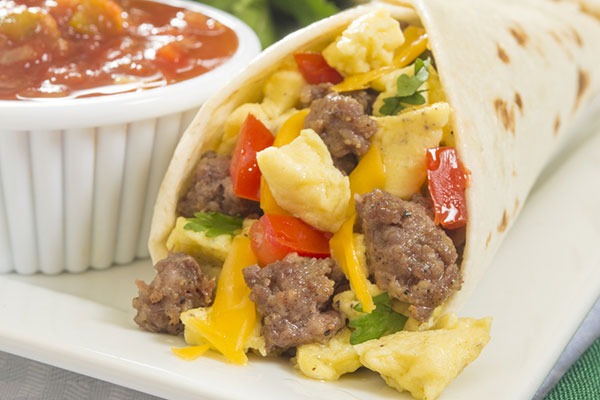 My go-to lunch after a morning practice and weights session is typically a homemade breakfast burrito with scrambled eggs, chorizo, cheese, potatoes, and some veggies (salsa) wrapped in a tortilla. I use a plain flour tortilla because I like the taste, but you can also substitute for a whole wheat tortilla. I also make sure to add some fruit on the side. 
After weights, I really try to focus on getting eggs, cheese, and some type of sausage or meat to replenish my muscles with protein after being torn up from lifting. Along with the protein, the veggies and carbs from the tortilla give me a healthy balanced meal.
I'll typically have two burritos on training day in between workouts. I use three eggs, a quarter pound of sausage, and a light handful of cheese divided between the two burritos. I'll have the first one right after weights, which is about 2.5 hours before my next swim, and then eat the second burrito about an hour before my next swim.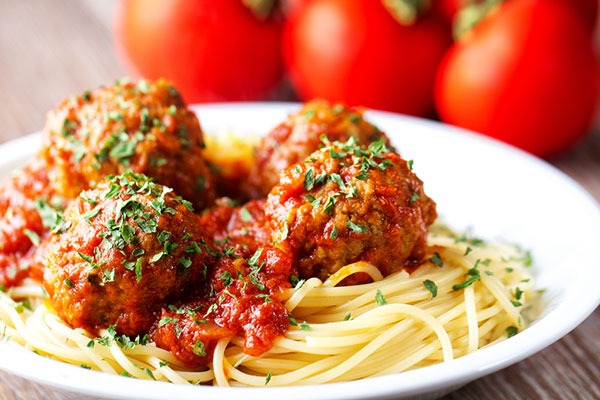 Dinner for me is a little more varied, but I always have some form of protein, whether it's grilled chicken breast (chicken is my favorite protein), steak, meatballs, or ground turkey. I pair that protein with a side of potatoes, brown rice, or pasta. 
Like most people, I do get bored with the repetition of meals and I sometimes find it difficult to be creative with dinners. After a tough workout, the last thing I want to do is wait more than 20 minutes, which is typically how long a plain chicken and rice combo takes me to make, to prepare a more 'appealing' meal. In my mind, as long as I get the fuel I need and I know that it's serving a purpose, I'm okay with that. But, I do order in at least twice a week if I really want to switch it up.
My biggest tip is to NOT SKIP MEALS. I have been there when you don't want to cook, or the lactic acid is so piled up in your stomach that you don't even want to eat, but I always try to get something down so that the workout doesn't go to waste.
What is food-first nutrition?
Every athlete wants to reach their peak performance, which often means pushing harder and longer in training and in competition. In the quest to reach their maximum potential, many athletes know that good nutrition is critical, but they may also look to the latest supplements and trendy diet regimens to give them that extra boost.
Some athletes, on the other hand, have found that a food-first approach is all they need to achieve peak performance. While some athletes may need to supplement their dietary intake because of a medical condition, many athletes can properly fuel their bodies and meet all their bodies' needs with the right food.
In the Food-First Nutrition series, Olympians, Paralympians, and elite athletes share how they maintain the strength and energy they need to compete at the highest levels of sport through a food first approach. For more information on the best foods for athletes, check out the TrueSport Nutrition Guide.
About Olivia Smoliga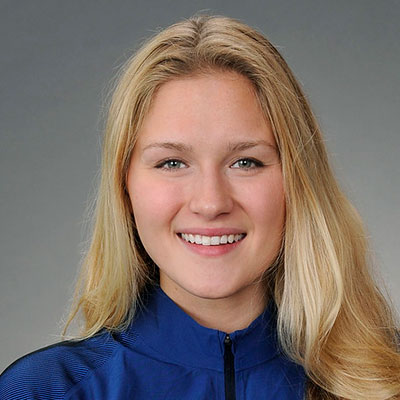 An Olympic gold medalist in the 4x100m medley, Olivia Smoliga is a top performing member of the USA Swimming team and continues to make her mark on the sport. After her success at the 2016 Rio Games, the University of Georgia graduate won a record eight gold medals at the 2018 Short Course World Championships and has since won a gold in the 50m backstroke and a bronze in the 100m backstroke at the 2019 World Aquatics Championships in Gwangju, South Korea. She trains with the Athens Bulldog Swim Club.