"As long as you
show up and do
your best, you're
a step ahead."
 — Mandy Marquardt,
professional cyclist and
TrueSport Ambassador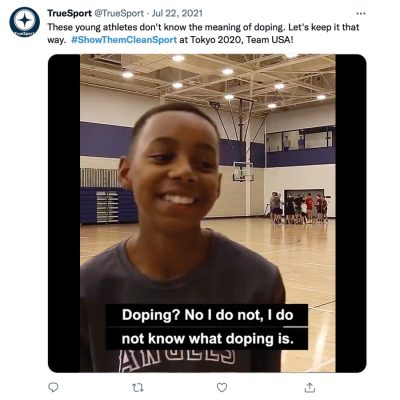 Tokyo Games Campaign Encourages Athletes to Consider the Next Generation
Prior to the Olympic and Paralympics Games in Tokyo, USADA aired a campaign reminding Olympians and Paralympians that their actions shape the next generation's understanding of integrity and fair play. The video campaign featured young athletes answering questions about the complex philosophical and technical terms often used in conversations about clean sport. The athletes' answers, whether accurate or humorous, illustrated that the actions of role models in sport are more important than any words. Thus, the campaign encouraged elite athletes to #ShowThemCleanSport: The next generation is watching.
Rodchenkov Anti-Doping Act in Action
Signed into law on December 4, 2020, the Rodchenkov Anti-Doping Act (RADA) of 2019 is landmark legislation that criminalizes international doping conspiracies. The law establishes criminal penalties – fines and up to 10 years of imprisonment – for doping in all major international competitions in which U.S. athletes participate alongside at least three foreign athletes and organizers receive sponsorship from companies doing business in the U.S. or are compensated for the right to broadcast their competition in the country. Over the course of 2021, USADA, law enforcement, and organizations from across the world collaborated on the first case arising under the law, and in doing so, successfully protected the integrity of the Tokyo Olympic Games.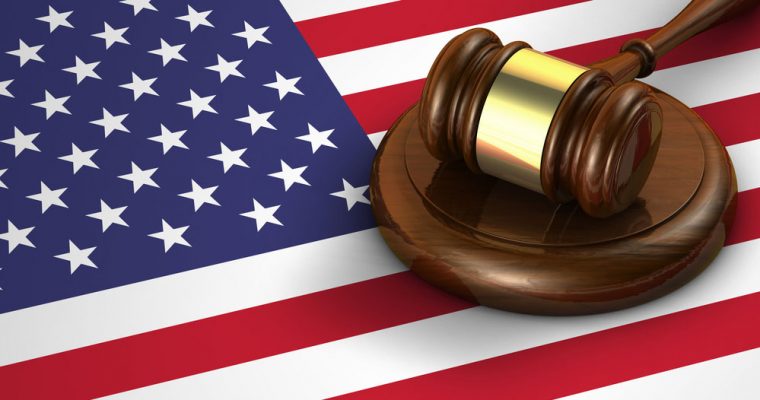 "It's really easy to think that you should just push through and make yourself better by building on what you already have, but your body needs an opportunity to rest and recuperate."
 — Kara Winger,
Olympian and
TrueSport Ambassador
"The best piece of advice I've received from my coach was to trust the process and to aim for progress rather than perfection."
 — Abby Raymond,
Team USA Weightlifter and
TrueSport Ambassador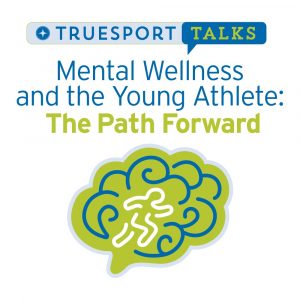 A recognized thought leader for athlete health in youth sport, TrueSport and USADA gathered some of the most relevant voices in the mental health space to host "TrueSport Talks – Mental Wellness & the Young Athlete: The Path Forward," on December 8, 2021, at the U.S. Olympic & Paralympic Museum.
The event featured elite athletes Gracie Gold (Olympian, Figure Skating), Noah Lyles (Olympian, Track & Field), Josephus Lyles (Track & Field), and Deja Young-Craddock (Paralympian, Track & Field) alongside nationally recognized youth sport influencers and clinical experts from across the country. Together, they explored mental wellness through the lens of youth sport.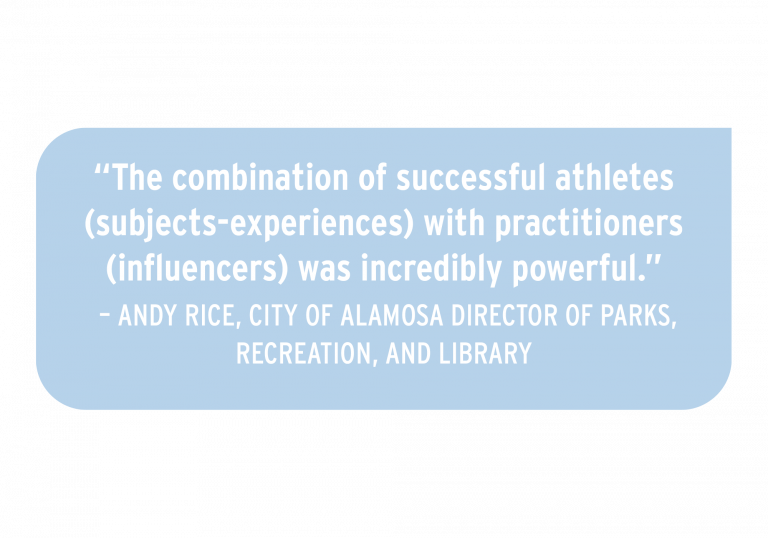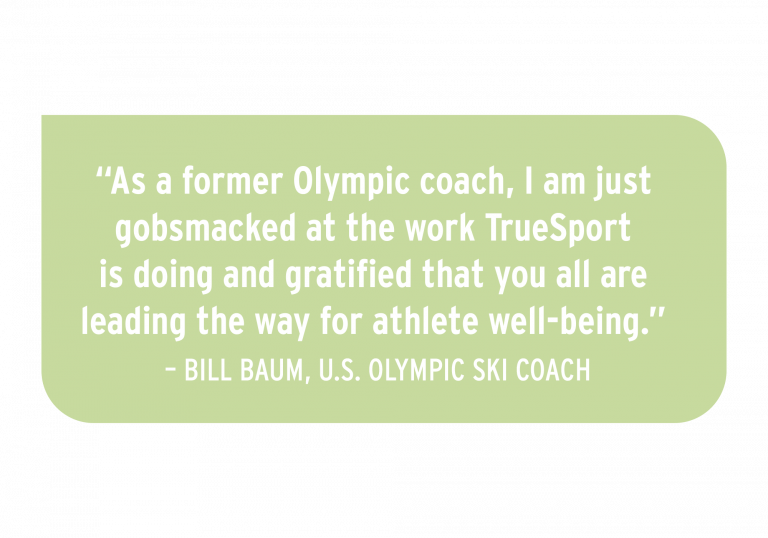 "I love being around my teammates because they


pick me up when I need
it and inspire me to be


the best."
 — Steve Emt,
Paralympian and
TrueSport Ambassador
20th Annual USADA Symposium on Anti-Doping Science:
Synergizing Anti-Doping Science and Investigations
to Protect Athletes and Clean Sport
Continuing a 20-year legacy of advancing scientific innovation, USADA hosted the 20th Annual USADA Symposium on Anti-Doping Science from October 1–4 in Scottsdale, Arizona. Following a fully virtual format in 2020, the 2021 Symposium offered a hybrid approach with 151 registered attendees from more than 35 countries attending both in person and virtually to advance doping detection and deterrence efforts across the world.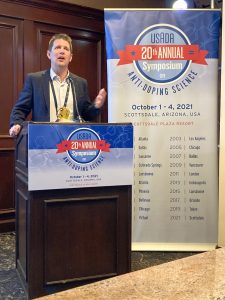 "I think that the biggest lesson I've learned in this




is to be flexible."
 — Aaron Schiedies,
Paralympian and
TrueSport Ambassador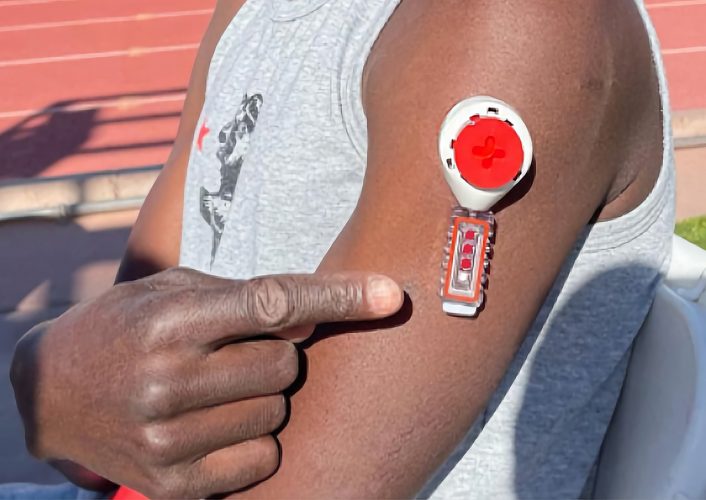 USADA continued to expand its Dried Blood Spot testing using the Tasso device
"There's no point
in giving half
of your best."
 — Richard Torrez Jr.,
Olympian and
TrueSport Ambassador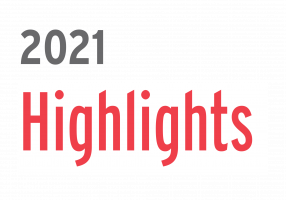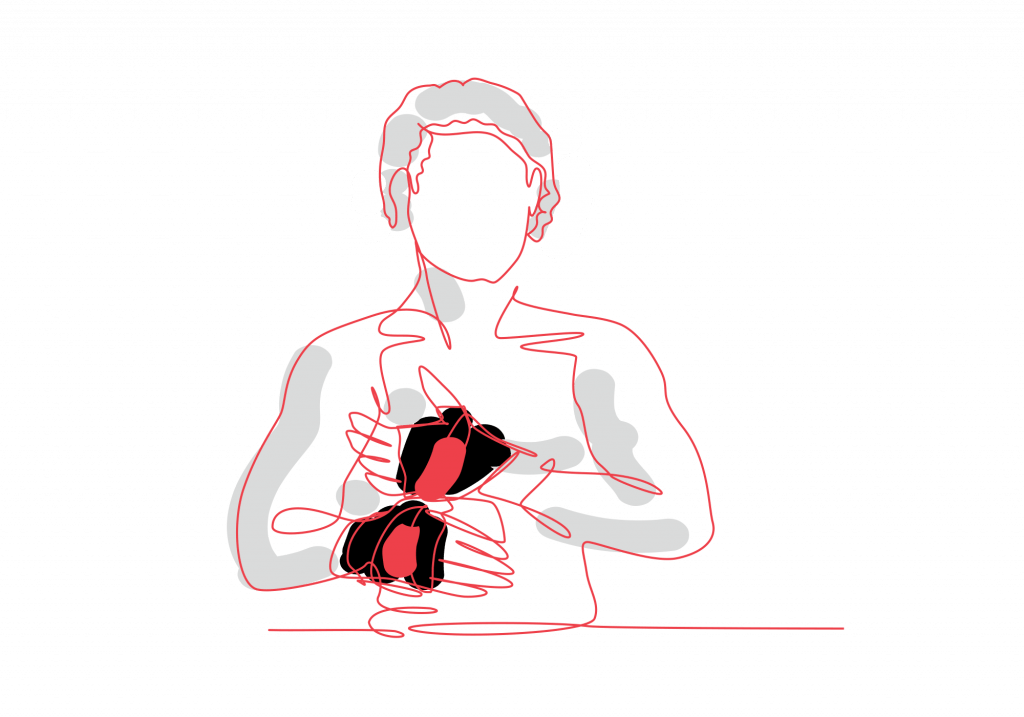 • 4,300+ tests administered to more than
650 athletes globally, with 55 nationalities represented
• 4.2 tests per domestic athlete and 4.1 tests per international athlete
• Testing at 43 global events, including 4 on
Fight Island in Abu Dhabi, United Arab Emirates

UFC EDUCATION
• 115 educational phone calls in 8 languages for new athletes
• Every athlete in the Registered Testing Pool completed the UFC Athlete's Advantage video tutorial

UFC DRUG REFERENCE
• 114 drug reference inquiries received by phone
• 529 drug reference inquiries received by email
• 13,726 UFC Global DRO searches
— Top 5 UFC Global DRO searches: Cannabis, Caffeine, Cocaine, Creatine, and Marijuana
"Take care of yourself…your body and your mind."
 — Tyler Carter,
Paralympian and
TrueSport Ambassador
RESULTS MANAGEMENT & INVESTIGATIONS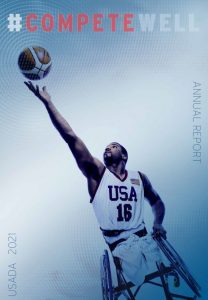 Click above to access the full 2021 Annual Report, including the independent financial audit.