COACH'S ADVANTAGE
RESOURCES
Coaches are one of the most influential people in athletes' lives, and are in a unique position to help them make positive and healthy choices. Understanding the role they play in keeping sport clean, as well as their responsibilities under the World Anti-Doping Code, is vital for both them and the athletes they support.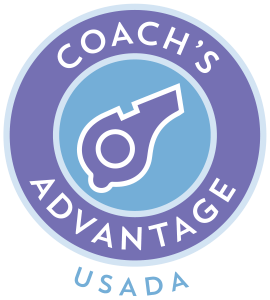 Being knowledgeable, complying, and fostering positive anti-doping attitudes is key to a level playing field.
Coach's Advantage is a comprehensive, online educational tutorial comprised of video modules and a quiz. The lessons cover the WADA Prohibited List and Code changes, the sample collection process, Therapeutic Use Exemptions (TUEs), and Whereabouts responsibilities.
To sign in to your account or register for an account to take the tutorial, please visit https://coach.usada.org/.
If you have questions, please email education@usada.org.
Important Links for Coaches
As a coach, you are one of the most influential people in your athlete's life. Athletes will come to you with questions about their technique and strategy, but they may also come to you with questions about areas of sport that you may not be as well versed in, such as anti-doping. Your knowledge and influence can help your athlete make critical choices that will shape their future and reputation. Remember, it takes a lifetime to build a reputation, but it can take only a second to destroy it. As such, it is absolutely vital you maintain a comprehensive understanding of the anti-doping process. This document covers some of the most important information you should know.