"I think that anti-doping rules are important to sport because we all want to have a chance at greatness. You don't become an Olympic athlete and just want to be okay, or in the middle, or see people who have cheated get the glory that you worked so hard for."
–  Kara Winger, 4x Olympian, Track and Field – Javelin
Doping is both a health issue and an ethics issue. Performance-enhancing drugs can be extremely dangerous and even deadly. In addition to endangering their own health, athletes who dope seek to gain an unfair advantage over their competitors, thereby undermining their competitors' hard work and threatening the credibility of their sport. This win-at-all-costs attitude violates the underlying values that make sport meaningful to society.
In 2017, USADA conducted an elite-athlete survey, completed by more than 800 current and former Testing Pool athletes, for insights on how to improve our programs and better serve athletes. The survey also revealed that athletes understand the importance of clean sport:
93% of respondents support USADA's mission to protect clean sport, while more than 90% of respondents are willing to take a stand to promote the integrity of their sport.
More than 80% of respondents recognize the importance of both blood and urine testing to help keep their sport clean.
85% of athletes trust USADA to report the knowledge of doping in their sport.
Clean sport is worth fighting for at every level of competition and we are all responsible for creating a culture of clean sport.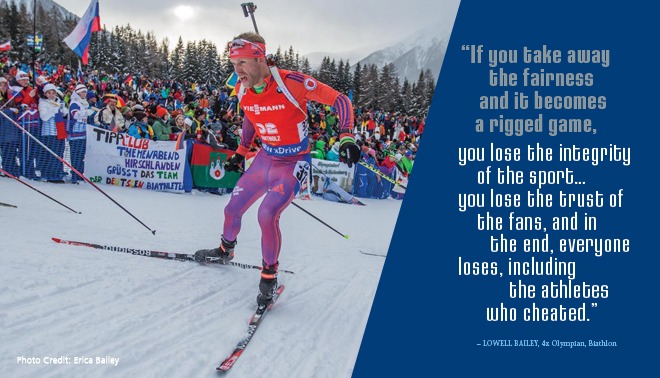 "If you take away the fairness and it becomes a rigged game, you lose the integrity of the sport…you lose the trust of the fans, and in the end, everyone loses, including the athletes who cheated." 
– Lowell Bailey, 4x Olympian, Biathlon
Ready to take a stand for clean sport?
Need more information?