Drug Reference Phone Line
Speak to an Expert
USADA's Drug Reference Line® provides a personal resource to understanding prohibited substances based on the WADA Prohibited List. An expert is available to answer questions about the status of a substance; Therapeutic Use Exemptions (TUE); and how that process can be started or carried out. The resource is available Monday-Friday, 8 a.m. to 5 p.m. MST. If you reach our voicemail during office hours, please leave a detailed messaged and we will call you back as soon as possible.
Other Drug Reference Resources
Search the Status of Medications Online
Search by name brand or generic ingredient
In- and out-of-competition status specific to sport
Threshold substance information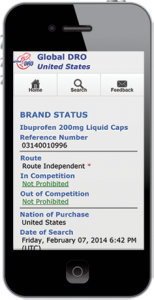 The use of dietary supplements is at your own risk.  Learn more about dietary supplements and how to reduce your risk if you choose to use them.