Sample Collection Process
An important piece of any anti-doping program is sample collection or the process of securing an athlete's blood and/or urine sample, completing paperwork, as well as preparing and shipping the sample to a laboratory accredited by the World Anti-Doping Agency (WADA). USADA is a signatory to the World Anti-Doping Code (Code), and USADA's sample collection process is fully compliant with the Code and International Standard for Testing & Investigations.
The sample collection process is designed to be a safe process, and as comfortable as possible for athletes, while ensuring that the sample integrity is maintained throughout. The sample collection process is a standard procedure, from notification of the athlete to the shipment of the sample to the laboratory.
Read more about the blood and urine sample collection process using the links below.
What Happens to
My Sample
Click here to see how the sample collection process has been modified with COVID-19 safety protocols.
All videos are copyrighted property of the U.S. Anti-Doping Agency. The material contained within may not be reproduced, distributed, transmitted, or otherwise used, except with the express written permission of the U.S. Anti-Doping Agency.
Additional Considerations for Impaired Athletes
Due to the sensitive nature of drug testing and the physical requirements for an athlete during sample collection, there are additional considerations for athletes with impairments.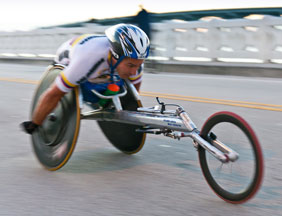 Athlete's RESPONSIBILITIES
**NOTE: As defined by the Code: "Refusing, or failing without compelling justification, to submit to sample collection after notification as authorized in applicable anti-doping rules or otherwise evading sample collection is an anti-doping rule violation."