Stimulation of Erythropoiesis and O2 Utilization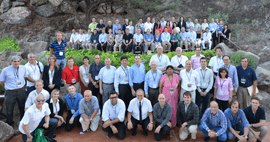 The symposium, entitled "Stimulation of Erythropoiesis and O2 Utilization," discussed the body's response to tissue hypoxia, a complex process, involving both hematopoiesis and iron metabolism. In the past decade, the hypoxia-inducible factors (HIFs) have been studied and therapeutic targets in the HIF control mechanism identified and taken to clinical trial. The observed increases in red blood cell mass appear to be only partially dependent on erythropoietin (EPO) expression. Numerous other mechanisms to alter red blood cell production, such as xenon gas, have also been reported. The original ON- and OFF-scores involved hematocrit, hemoglobin, reticulocyte percentage, serum soluble transferrin receptor concentration, and serum EPO concentration. This has been simplified to basically the hemoglobin concentration and reticulocyte percentage. It seems unlikely that such a complex system can be adequately characterized with respect to endogenous or exogenous effectors with so few biomarkers.
The Symposium addressed a variety of approaches to increasing red blood cell mass and potential detection methods. It was discussed whether our approaches to EPO detection and intra-individual longitudinal monitoring are based on a sufficient number of measurements to provide the definitive information to identify current doping strategies.
Held annually, the USADA Symposium on Anti-Doping Science is designed to enable the medical and science communities to gather and discuss the science behind doping with the potential for developing a uniform testing scheme, a research agenda and timeline, and to make the science and legal aspects of testing more efficient. Previous USADA symposia focused on "Inside the Individual: Refining the Measurement of Biological Variation" (2013); "Deterring Athletes from Using Performance-Enhancing Drugs" (2012); "Detection of Growth Factors" (2011); "Emerging Technologies" (2010); "Detection of Enhancement of Oxygen Transport: Seven Years of Progress" (2009); "Mitochondria to Proteins: New Challenges for Anti-Doping Science" (2008); "Oxygen Transport and Energy Production" (2007) "Intra-Individual Reference Ranges" (2006); "Muscle Development & Recovery: Implications for Doping Control" (2005); "Detection of Human Growth Hormone Abuse in Sport" (2004); "Application of Gas Chromatography – Combustion – Isotope Ratio Mass Spectrometry to Doping Control" (2003); and "Oxygen Transport Enhancing Agents and Methods" (2002).