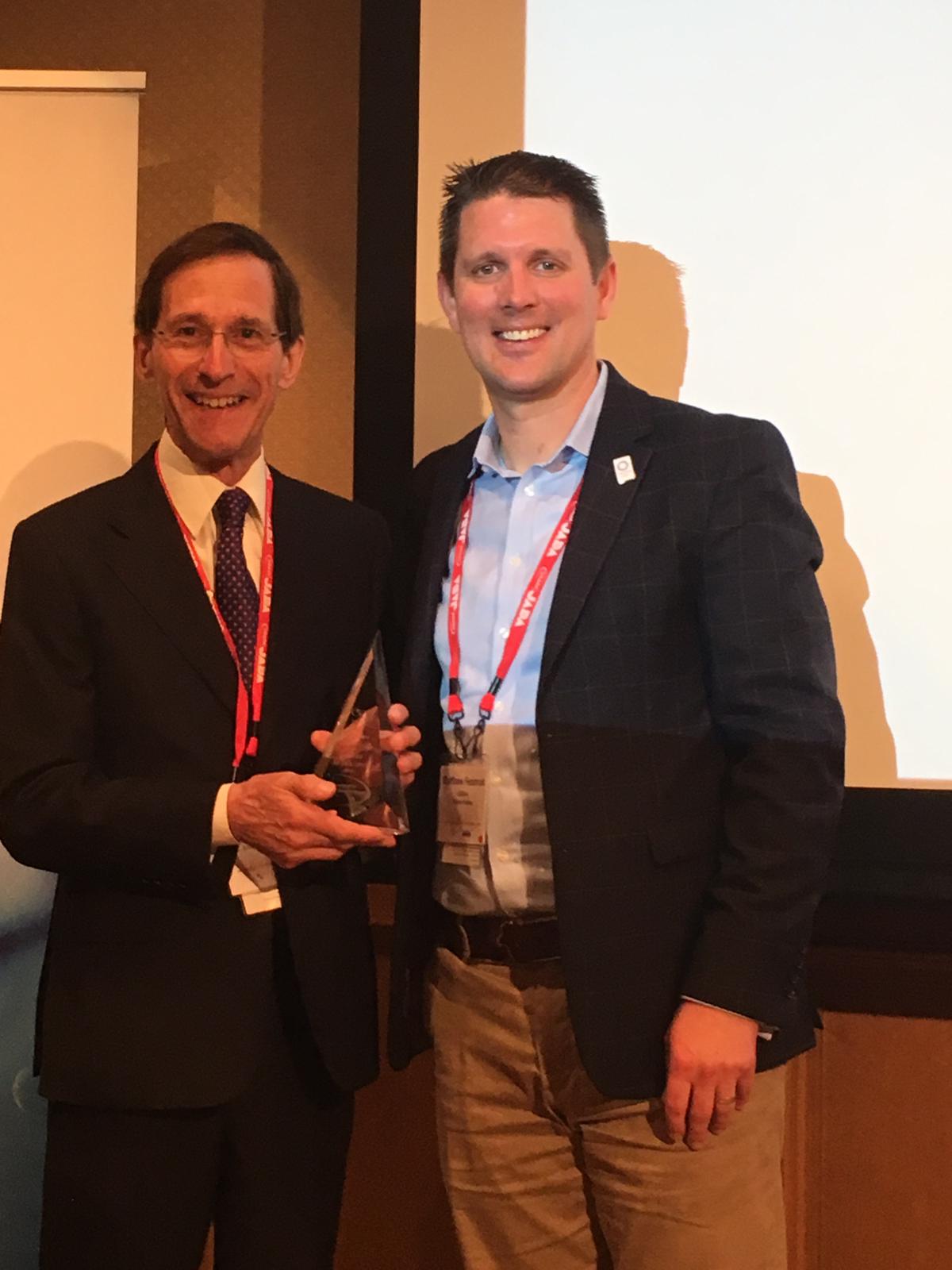 The U.S. Anti-Doping Agency (USADA) continues its tradition of recognizing scientific excellence in the fight for clean sport by awarding the 4th Annual Larry D. Bowers Award for Excellence in Anti-Doping Science to Dr. David Cowan, former director of the Drug Control Centre (DCC) in the United Kingdom and Professor Emeritus in the Department of Environmental, Analytical, and Forensic Science at King's College London.
Presented during USADA's 18th Annual Symposium on Anti-Doping Science in Tokyo, Japan, the Award and accompanying cash honorarium were granted to Dr. Cowan in honor of his professional achievements in anti-doping research, technological innovation, and laboratory administration. As the co-founder of the DCC and its director for nearly 30 years, Dr. Cowan provided critical support and expertise to UK Anti-Doping and global anti-doping efforts through the interpretation of biological data and development of cutting-edge analysis techniques. For example, forensic techniques developed and used by the DCC were cited in the McClaren Report commissioned by the World Anti-Doping Agency (WADA) to investigate allegations and evidence of state-sponsored doping in Russia. With his laboratory expertise, Dr. Cowan led the anti-doping laboratory in support of the 2012 Olympic & Paralympic Games in London, and most recently, he assisted with the preparation of the laboratories for the 2016 Olympic Games in Rio and the 2018 Winter Games in PyeongChang.
Over the course of his 40-year career, Professor Cowan has also advanced anti-doping science by publishing extensively in the field of pharmaceutical analysis, with a particular focus on the detection and quantification of drugs and their metabolites in complex body fluids. He has played an especially important role in the development of tests for growth hormone and IGF-I, as well as a new biomarker approach for identifying abuse of hGH in sport.
According to his nominators, Dr. Cowan has "made an outstanding contribution to the anti-doping community on both a local and global level, he is the longest serving WADA laboratory director, and is arguably the most experienced, active anti-doping scientist in the world at this time."
"USADA is pleased to recognize the important career achievements of Dr. Cowan to anti-doping science," said USADA Chief Science Officer Dr. Matthew Fedoruk. "Among Dr. Cowan's biggest achievements are his willingness to collaborate and contribute to translating anti-doping science to new testing methods and implementation to detect and deter doping."
"When the LDB Award for Excellence in Anti-Doping Science was granted and created in honor of Larry Bowers, it was moving to see an award recognizing the work of an excellent scientist," noted Dr. Cowan. "Little did I expect that four years later, Larry would be on the other end of the phone line to tell me that I would be the recipient of this year's award. I hope that this recognition will be an encouragement to current and future colleagues, showing them that we do have an important role to play in helping to deter doping."
The Larry D. Bowers Award for Excellence in Anti-Doping Science
The first LDB Award for Excellence in Anti-Doping Science was granted and created in honor of Larry D. Bowers, USADA's former Chief Science Officer, the former director of an IOC-accredited anti-doping laboratory, the author of more than 100 peer-reviewed publications. Dr. Bowers also founded the USADA Annual Symposium on Anti-Doping Science in 2002 to advance anti-doping science and facilitate global collaboration.
With the 2018 Award granted, the nomination window for the 4th Annual Larry D. Bowers Award for Excellence in Anti-Doping Science is now open and nominations can be submitted through March 2, 2020. Qualified nominees will have contributed to anti-doping science over an extended period of time, while also demonstrating investigative independence and excellence in scientific work. More information on the nomination process and nominee requirements can be found here.
---
For more information or media inquiries, click here.