Click here to see how the sample collection process has been modified with COVID-19 safety protocols.
Urine Sample Collection Process
No-notice drug testing is critical in the global fight for clean sport.
Athletes subject to USADA drug testing may be subject to both in- and out-of-competition testing. This page outlines the in-competition testing process for a urine sample collection. The procedures for providing and processing a sample collection during the out-of-competition testing process are similar and are depicted in the video to the left.
All videos are copyrighted property of the U.S. Anti-Doping Agency. The material contained within may not be reproduced, distributed, transmitted, or otherwise used, except with the express written permission of the U.S. Anti-Doping Agency.
Explore the Steps of the Urine Sample Collection Process
Click on each step to open the details.
Selection and Notification
Athlete Selection and Notification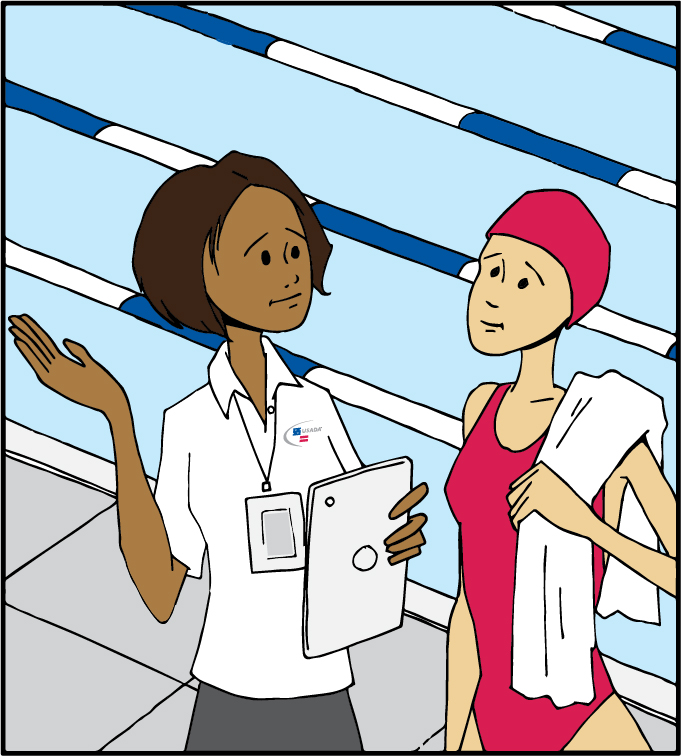 USADA's drug testing program allows for athletes to be selected for testing both at a competition (in-competition testing) and out-of-competition without any advanced notice, which can occur at any time and at any location. Athletes will be notified of their selection for doping control, by a USADA Doping Control Officer (DCO) or USADA chaperone. At the time of notification, the athlete will be informed of their rights and responsibilities during the sample collection process and be asked to provide photo identification.
Doping Control Station
Provision of Sample
Sample Processing
Sample Collection Forms
What Happens to My Sample After Collection?