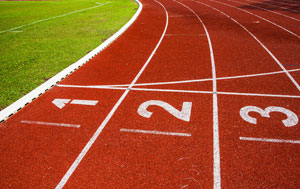 USADA announced today that a sole arbitrator from the Court of Arbitration for Sport ("CAS") rendered his decision in an appeal that sought to challenge the start date of track & field athlete Mohamed "Mo" Trafeh's sanction, as earlier determined in the Award issued by the American Arbitration Association ("AAA") on December 2, 2014.
The CAS Award vacated the AAA Award start date of January 1, 2012, for Trafeh's 4-year period of ineligibility and instead commenced the start date on December 2, 2014, the date of the AAA hearing decision. Accordingly, Trafeh's period of ineligibility, which was due to expire on December 31, 2015, will now continue through and include December 1, 2018.
Trafeh, was found guilty by the AAA of committing multiple rule violations, including the repeated use and possession of erythropoietin ("EPO") and evading sample collection. At that time, the AAA arbitrator determined that, in accordance with the rules of the World-Anti Doping Code ("Code") and International Association of Athletics Federations ("IAAF") Anti-Doping Rules, Trafeh's multiple violations and other conduct qualified as aggravating circumstances. Consequently, a 4-year period of ineligibility was imposed as well as the loss of results dating from January 1, 2012, which includes a U.S. 15K National Championship, U.S. Half Marathon Championship and a record-setting U.S. 25k National Championship.
Although the applicable rules require that a sanction for an anti-doping rule violation start from the date of the hearing decision, in this instance, the AAA arbitrator designated January 1, 2012, as the sanction start date instead. For that reason, on December 23, 2014, USADA appealed the AAA Award to CAS. CAS issued its award on August 13, 2015, finding that the decision to start the period of ineligibility on January 1, 2012 is "inconsistent" with the applicable rules and "without any legal justification." Accordingly, the sole arbitrator concluded that "there is no justification to start the 4-year period of ineligibility any earlier than the AAA December 2, 2014 award."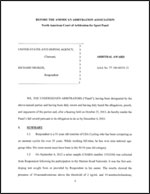 Based on the ruling of CAS, Trafeh remains disqualified from all competitive results obtained on and subsequent to January 1, 2012, including forfeiture of any medals, points, and prizes, through the conclusion of his period of ineligibility.
In an effort to aid athletes, as well as all support team members such as parents and coaches, in understanding the rules applicable to them, USADA provides comprehensive instruction on its website on the testing process and prohibited substances, how to obtain permission to use a necessary medication, and the risks and dangers of taking supplements as well as performance-enhancing and recreational drugs. In addition, the agency manages a drug reference hotline, Drug Reference Online (www.GlobalDRO.com), conducts educational sessions with National Governing Bodies and their athletes, and proactively distributes a multitude of educational materials, such as the Prohibited List, easy-reference wallet cards, periodic newsletters, and protocol and policy reference documentation.
USADA is responsible for the testing and results management process for athletes in the U.S. Olympic and Paralympic Movement, and is equally dedicated to preserving the integrity of sport through research initiatives and educational programs.
---
For more information or media inquiries, click here.