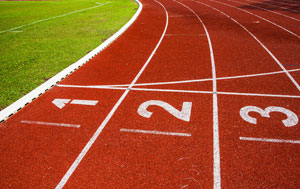 The United States Anti-Doping Agency (USADA) announced Monday that Southern District of New York Judge Barbara S. Jones issued a decision dismissing the federal lawsuit brought by Regina Jacobs against USADA and USA Track & Field (USATF).
As previously announced by the United States Olympic Committee, Jacobs is a track athlete who tested positive for the anabolic steroid tetrahydrogestrinone (THG) at the 2003 USA Track and Field Outdoor Championships.  Jacobs' lawsuit asked the court to intervene and excuse her from the USADA adjudication process that was designed with the assistance of athletes and other sports organizations and which has been in place since 2001.  Judge Jones concluded that court did not have jurisdiction to intervene because the parties had agreed that "all questions of arbitrability, including the validity and scope of the arbitration agreement, are reserved for arbitral rather than court determination."  As noted in Judge Jones' opinion, the American Arbitration Association (AAA) had already heard Jacobs' arguments and determined that the case should proceed under the AAA/USADA adjudication process.
"USADA knew this lawsuit had no merit when it was filed and the court's ruling is the confirmation that we expected," said Travis T. Tygart, USADA's Director of Legal Affairs.  "This lawsuit has not distracted USADA from its mission of protecting clean athletes and maintaining the integrity of fair competition.  Unfortunately, even baseless lawsuits are costly to defend and the resources that USADA was forced to expend on this lawsuit are no longer available for USADA to allocate to testing, education and research."
USADA is the independent anti-doping agency for Olympic sports in the United States, and is responsible for managing the testing and adjudication process for U.S. Olympic, Pan Am and Paralympic athletes. USADA is equally dedicated to preserving the integrity of sport through research initiatives and educational programs.
---
For more information or media inquiries, click here.