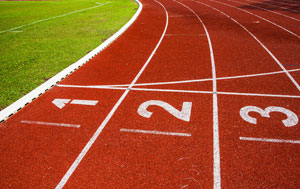 The United States Anti-Doping Agency (USADA) announced today that Marion Jones of Austin, Texas, has accepted a two-year period of ineligibility after admitting to the use of a prohibited substance.  Additionally, today Jones voluntarily relinquished to USADA and the United States Olympic Committee her five Olympic medals won at the 2000 Sydney Games.
Jones, 31, admitted to using a substance prohibited under the rules of the International Association of Athletics Federations (IAAF) and USADA, both of which have adopted the World Anti-Doping Code and the World Anti-Doping Agency (WADA) Prohibited List.  Jones acknowledged using the prohibited substance known as the 'clear' from September 2000 through July 2001.
On October 5, 2007, in U.S. District Court in White Plains, New York, Jones pleaded guilty to two counts of providing false statements to federal investigators.  According to Department of Justice authorities, Jones had falsely denied to federal officials in California that she had taken performance-enhancing drugs and made other false statements during their investigation into the activities of the Bay Area Laboratory Cooperative (BALCO), and to New York federal agents investigating a check fraud/money laundering scheme.
"Those who value clean sport greatly appreciate the efforts of the U.S. Attorney's Offices of the Northern District of California and the Southern District of New York and the BALCO investigators for their steadfast commitment to exposing the full truth of the BALCO doping conspiracy and their willingness to partner with USADA to hold accountable those who cheat their fellow competitors and sports fans by using performance-enhancing drugs," said USADA Chief Executive Officer Travis T. Tygart.
"The outcome of this story is a valuable reminder that true athletic accomplishment is not obtained through cheating and any medal acquired through doping is only fool's gold."
Jones' two-year period of ineligibility began October 8, 2007, the day she accepted the sanction which also requires disqualification of all her competitive results obtained on and subsequent to September 1, 2000, and forfeiture of all medals, results, points and prizes.  USA Track & Field, the national governing body for the sport in the United States, will carry out the sanction.
USADA is responsible for the testing and results management process for athletes in the U.S. Olympic and Paralympic Movement.  USADA is equally dedicated to preserving the integrity of sport through research initiatives and educational programs.
---
For more information or media inquiries, click here.