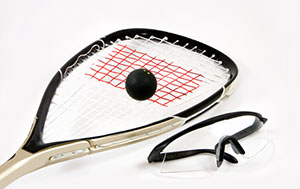 The United States Anti-Doping Agency (USADA) announced today that Jeffrey Alan Stark of Olympia, Washington, an athlete in the sport of racquetball, received a two-year suspension for an anti-doping rules violation.
Stark, 38, refused to take part in a USADA Out-of-Competition doping control test on August 25, 2007.  Under the rules of the International Racquetball Federation (IRF) and USADA, both of which have adopted the World Anti-Doping Code, athlete noncompliance with the applicable requirements regarding OOC Testing without compelling justification constitutes an anti-doping rules violation.
Stark's two-year period of ineligibility begins October 26, 2007.  Additionally, Stark is disqualified from all competitive results achieved subsequent to August 25, 2007.  USA Racquetball, the national governing body for the sport in the United States, will carry out the sanction.
USADA is responsible for the testing and results management process for athletes in the U.S. Olympic and Paralympic Movement.  USADA is equally dedicated to preserving the integrity of sport through research initiatives and educational programs.
---
For more information or media inquiries, click here.