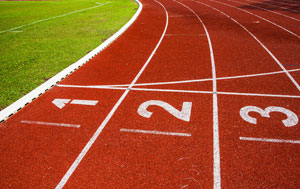 USADA announced today that it has imposed a lifetime period of ineligibility against former Track & Field coach Trevor Graham. The ban prohibits Graham from coaching or participating in any capacity in any competition or activity authorized or organized by the United States Olympic Committee (USOC), USA Track & Field (USATF), the International Association of Athletics Federations (IAAF) and/or any other signatory to the World Anti-Doping Code or any signatory's member organization.
Following his conviction on May 29, 2008 of one count of lying to federal investigators for his participation in the Bay Area Laboratory Cooperative (BALCO) scandal of June 2003, Graham elected to withdraw his request for an arbitration hearing related to charges sought by USADA concerning violations of the USADA protocol for Olympic Movement Testing ("USADA Protocol"), and the IAAF Anti-Doping Rules, all of which recognize the World Anti-Doping Code (the "WADA" Code). Accordingly, the sanction recommended by USADA is imposed. USADA originally charged Graham with violating anti-doping rules prohibiting possession, trafficking, and administration of performance-enhancing drugs, and assisting, encouraging, aiding and abetting anti-doping rule violations.
Graham's lifetime period of ineligibility goes into effect July 15, 2008.
Graham is the second coach against whom USADA has imposed a lifetime period of ineligibility for involvement in assisting drug use by athletes. USADA's CEO, Travis T. Tygart, commented, "While drug use by athletes is a serious wrong to be addressed with stiff penalties, involvement in doping by a coach is even more reprehensible and must be dealt with through the most severe of all sanctions. It is truly disgraceful when a coach uses his position to assist athletes under his care in doping."
In serving its mission to preserve the well being of Olympic sport and the integrity of competition, and ensure the health of all athletes, USADA works proactively through multiple programs including out of competition, no-advance notice testing, in-competition testing, collaboration with law enforcement agencies, and worldwide networking with anti-doping entities, to identify and adjudicate those who would attempt to undermine clean sport.
In an effort to aid athletes, as well as all support team members such as parents and coaches, in understanding the rules applicable to them, USADA provides comprehensive instruction on its website at usada.org on the testing process and prohibited substances, and how to obtain permission to use necessary medications. In addition, the agency manages a drug reference hotline, conducts educational sessions with National Governing Bodies and their athletes, and proactively distributes a multitude of educational materials, such as the Prohibited Substance Guide, easy-reference wallet cards, periodic newsletters, and complete athlete toolkits.
USADA is responsible for the testing and results management process for athletes in the U.S. Olympic and Paralympic Movement.  USADA is equally dedicated to preserving the integrity of sport through research initiatives and educational programs.
---
For more information or media inquiries, click here.