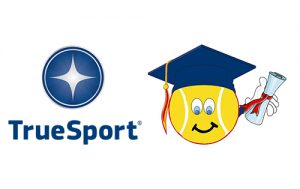 TrueSport, a movement powered by the U.S. Anti-Doping Agency (USADA), is pleased to announce its official partnership with A's & Aces, a tennis-based sports nonprofit for youth development located in New Orleans.
This new partnership will help to further strengthen the values and life lessons learned through sport by providing students with support on the court, in the classroom, and in life. Together, TrueSport and A's & Aces plan to educate and influence the New Orleans public school children through various programming events and values-based curriculum. By providing academic assistance, life skills, and the sport of tennis, this collaboration will look to reinforce values such as fair play, respect for others, and teamwork.
"TrueSport initiatives equip parents, coaches and kids with life lessons that emphasize sportsmanship, leadership, goal setting and perseverance. We are thrilled to be supporting A's & Aces with our sport values education," said Lisa Voight, TrueSport business development manager.
Since 2008, A's & Aces has impacted thousands of children in New Orleans. Their programs are specifically designed to address several crises currently affecting their region such as, illiteracy, violence, and obesity. A's & Aces prepares children to be successful in school by delivering a high-quality, sport-based, youth development program with mentoring and character-building. For their efforts, A's & Aces was also a 2012-2013 National Junior Tennis & Learning Chapter of the Year award winner and the 2015 Southern National Junior Tennis & Learning Chapter of the Year.
"Through this partnership, we hope to engage our athletes in conversations about perseverance, sports nutrition, and leadership that will give them the skills they need to be successful on the court, in school and in life. We're excited to partner with True Sport to engage our students in sports-based life skill development," said Freya Hoffman-Terry, A's & Aces chief operating officer.
About A's & Aces:
A's & Aces is an organization that provides academic and tennis programming for children all around New Orleans. Tennis is used as a hook to engage students in physical activity, academic assistance, and life-skills programming. A's & Aces provides both in-school and after-school tennis programming, holiday camps, and a summer camp to its participants. A's & Aces teaches life-skills, sportsmanship, and leadership to help students become successful on the tennis court, in the classroom, and in life.
About TrueSport®:
TrueSport, powered by the U.S. Anti-Doping Agency (USADA), is a community-based movement that champions the positive values and life lessons learned through sport. That means we're more about perseverance than power plays; leadership than lay ups; fair play than forehands. TrueSport believes in winning the right way and inspiring and influencing the next generation of athletes. By providing values-based programming to youth sport organizations for parents, kids and coaches, we ensure sport lives up to its full potential. Help us ignite a culture of TrueSport by visiting www.TrueSport.org.