USADA's Anti-Doping Programs
The U.S. Anti-Doping Agency (USADA) manages the anti-doping program for U.S. Olympic, Paralympic, Pan American, and Parapan American sport. To protect clean competition and the integrity of sport, USADA provides education, leads scientific initiatives, conducts testing, and oversees the results management process for all United States Olympic & Paralympic Committee (USOPC) sport national governing bodies, their athletes, and events. USADA is also the administrator for the UFC Anti-Doping Program. 
USADA is a signatory to the World Anti-Doping Code and fully complies with the World Anti-Doping Code's International Standards. Our anti-doping program is often referred to as the gold standard in the global anti-doping movement and we are at the forefront of the fight for clean competition.
Education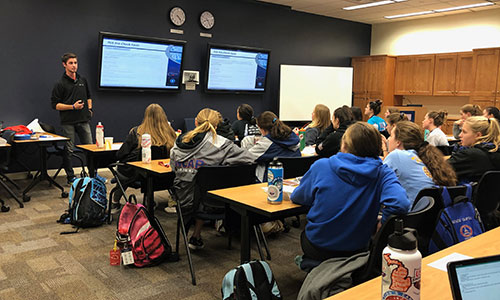 Education is an extremely important pillar of an effective anti-doping program and is the first line of defense in protecting the rights of clean athletes. USADA provides extensive anti-doping education to thousands of athletes each year focused on helping athletes and support personnel understand their rights and responsibilities in regards to the drug testing process. Topics of discussion during an education session could include: prohibited substances; Whereabouts requirements; the sample collection process; dietary supplement awareness; Therapeutic Use Exemptions; and results management information.
USADA delivers its anti-doping education and athlete resources in a number of ways. USADA routinely provides in-person education training and presentations; conducts webinars for general and select audiences; provides online, interactive tutorials; and produces numerous brochures, pamphlets, packets, and online education resources.
Science
Drug Reference
TUEs
Sample Collection & Analysis
Results Management
TrueSport
Innovative Technologies
Contract Testing