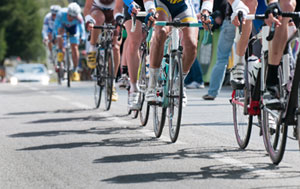 The United States Anti-Doping Agency (USADA) announced today that Joseph Papp of Bethel Park, Pennsylvania, an athlete in the sport of cycling, has received a two-year period of ineligibility after his sample provided May 7, 2006 at the International 42nd Presidential Cycling Tour of Turkey was reported positive for metabolites of testosterone or its precursors (6α-OH-androstenedione and 6β-OH-androsterone).
6α-OH-androstenedione and 6β-OH-androsterone are prohibited substances in the class of anabolic agents under the rules of the Union Cycliste International (UCI) and USADA, both of which have adopted the World Anti-Doping Code.  Papp, 32, also admitted to additional incidents of using other doping products.  His positive test and admitted use of other doping substances are all considered one violation under the WADA Code and sanctionable with a two-year maximum suspension.
Papp's two-year period of ineligibility begins on July 31, 2006, the day he began serving a provisional suspension.  Papp is disqualified from all competitive results obtained on and subsequent to July 1, 2001.  Papp's case was proceeding to arbitration before the American Arbitration Association (AAA)/Court of Arbitration for Sport (CAS) until he accepted the sanction on May 17, 2007.  USA Cycling, the national governing body for the sport in the United States, will carry out the sanction.
USADA is responsible for the testing and results management process for athletes in the U.S. Olympic and Paralympic Movement.  USADA is equally dedicated to preserving the integrity of sport through research initiatives and educational programs.
---
For more information or media inquiries, click here.