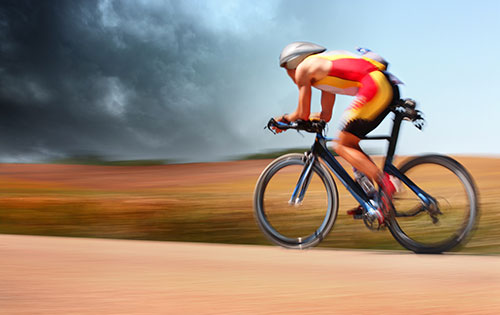 USADA announced today that Jeff Schwab, of Bullard, Texas, an athlete in the sport of cycling, has tested positive for a prohibited substance and accepted a two-year sanction for his anti-doping rule violation. Schwab was tested in-competition as a result of being among the top finishers in his event at the 2016 Tour of Corsicana Bike Race in Corsicana, Texas.
Schwab, 45, provided an in-competition urine sample on March 13, 2016, at the Tour of Corsicana Bike Race as a part of the RaceClean Program that works to fight doping at the amateur level of cycling. The goal of the RaceClean Program is to increase testing and education at the amateur level to provide greater doping deterrence, and this USA Cycling program is executed through member funding, donations, and local association partnerships.
Schwab's sample tested positive for the presence of an exogenous testosterone and/or its metabolites, which was confirmed by Isotope Ratio Mass Spectrometry (IRMS) analysis. Every urine sample that USADA collects is scrutinized under an Athlete Biological Passport program that examines levels of multiple steroid biomarkers that can indicate doping. Samples that exhibit atypical qualities are then targeted for more sophisticated IRMS analyses, which can reveal the presence of a synthetic, prohibited, anabolic agent. Schwab subsequently admitted his use of the anabolic agent under the care of a physician.
The use of any exogenous anabolic agent, including testosterone, is prohibited at all times under the USADA Protocol for Olympic and Paralympic Movement Testing, the United States Olympic Committee National Anti-Doping Policies, and the Union Cycliste Internationale Anti-Doping Rules, all of which have adopted the World Anti-Doping Code and the World Anti-Doping Agency Prohibited List.
After a thorough review of the case, including Schwab's medical records, USADA has accepted his explanation that the prohibited substance detected in his sample was contained within a prescribed medication he was taking in a therapeutic dose under the care of a qualified physician without the intent to enhance his athletic performance. However, Schwab lacked a valid Therapeutic Use Exemption (TUE).
Although an athlete may be prescribed a prohibited substance by a physician, it is important to understand that a prescription in and of itself does not authorize the use of a prohibited substance in sport. Under the USADA TUE Policy, an athlete has the responsibility to demonstrate in advance of using a prohibited substance that the use is medically legitimate and will not create a performance enhancing advantage. It is also important for athletes and the physicians who treat them to understand that powerful drugs like testosterone cannot be appropriately used in sport without advance authorization in order to ensure that use of them, even under the care of a physician, does not give an athlete an unfair advantage over fellow competitors.
Schwab's two-year period of ineligibility began on March 13, 2016, the date his positive sample was collected. Although Schwab's positive test was caused by his use of a prescribed medication, USADA determined that a two-year sanction was appropriate based on the fact that testosterone is a non-specified substance and the athlete lacked a TUE for this substance that is prohibited at all times. In addition, Schwab has been disqualified from all competitive results obtained on and subsequent to March 13, 2016, including forfeiture of any medals, points, and prizes.
In an effort to aid athletes, as well as all support team members such as parents and coaches, in understanding the rules applicable to them, USADA provides comprehensive instruction on its website on the testing process and prohibited substances, how to obtain permission to use a necessary medication, and the risks and dangers of taking supplements as well as performance-enhancing and recreational drugs. In addition, the agency manages a drug reference hotline, Drug Reference Online (www.GlobalDRO.com), conducts educational sessions with National Governing Bodies and their athletes, and proactively distributes a multitude of educational materials, such as the Prohibited List, easy-reference wallet cards, periodic newsletters, and protocol and policy reference documentation.
USADA is responsible for the testing and results management process for athletes in the U.S. Olympic and Paralympic Movement, and is equally dedicated to preserving the integrity of sport through research initiatives and educational programs.
---
For more information or media inquiries, click here.