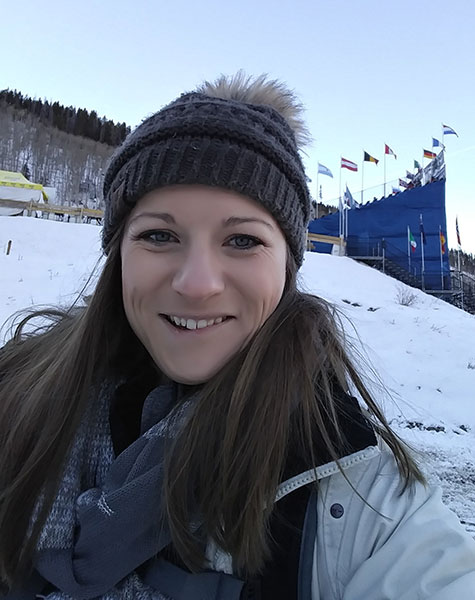 Clean sport doesn't happen without the work of Doping Control Officers (DCOs) who oversee the collection and transportation of samples, while also helping athletes understand their rights and responsibilities, complete important documents, and maintain the integrity of the sample collection process. This role is also one of the most crucial at USADA because it offers the best insight into the experiences and needs of USADA's most important stakeholders – the athletes. 
To fill the ever-growing demand for DCOs and further connect with athletes, USADA has launched a program that gives office staff members the opportunity to also work as DCOs. Below, one such staff member, Emily Bench (Athlete Services Coordinator), reflects on the program and her first event as a DCO.
What is the internal DCO program?
The internal DCO program allows USADA office staff to become certified DCOs to assist with short-notice testing, as well as better understand what happens on the field and the ripple effect that our internal decisions can have on athletes and the clean sport movement.
What are the benefits to the program and how will it allow USADA to better serve athletes?
I have seen numerous benefits from this program already! One of the main benefits of office staff experiencing testing is that we can identify and more easily propose improvements to the testing and Whereabouts process. Another benefit is that USADA can better accommodate short-notice testing when records are broken and we need to ratify the record. It's also helpful to have this back-up pool of DCOs when other organizations need USADA to test non-U.S. athletes who are training or competing in the country. Now USADA can increasingly accommodate these requests and support the fight for clean sport from a global prospective.
Why do you think it's valuable for internal staff to conduct testing and experience the process?
We are always seeking to improve processes for our athletes and it's typically the USADA office staff who are making decisions and building new programs that ultimately affect the athletes. With the internal DCO program, office staff will now be able to pull on first-hand experiences and insights when recommending improvements.
How do you think your internal knowledge supported your work as a DCO?
Coming into the internal DCO program with the knowledge I have from working at USADA's headquarters was invaluable. There is a ton of information to cover to become DCO-certified but I had a foundational understanding from my time in the office, so I was able to pick up on things quickly and understand on a deeper level how the collection process works in tandem with our office processes.
What did you learn from your first event?
I already had a great respect for our remote DCOs before my first event, but after working the 2019 Birds of Prey FIS Ski World Cup in Breckenridge, I gained an even greater appreciation for what they do. They are juggling so many variables to be successful and our DCOs here at USADA are phenomenal at that.  
What were some of the challenges specific to this event and location?
This was a great event to work, as the town was super fun and there was a lot of energy, which made it particularly exciting to be a part of. The location on the mountain made travel logistics a bit trickier, but we figured it out and the staff at the host resort was incredibly helpful.
 Is there anything from this experience that you'll bring back to internal teams to improve processes?
Absolutely! The most notable thing I encountered was that the testing and documentation technology was a hurdle at times during this event. While major efforts are currently underway to improve this technology, I was also able to use my experience in the field to bring back interim solutions to make the testing process more efficient until those technology improvements are implemented.
What's your favorite part about serving in the DCO role?
I really enjoy supporting a high level of competition and helping to ensure a level playing field for our athletes.