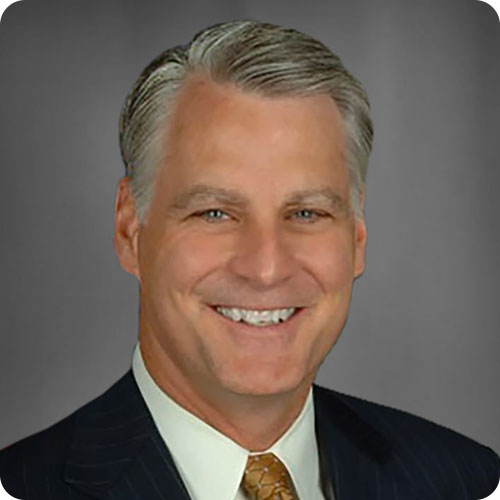 Tim Roemer, former U.S. Member of Congress, 9/11 Commissioner, and U.S Ambassador to India, is Executive Director and Strategic Counselor at APCO Worldwide. He advises clients on government relations and provides strategy guidance. With his background in international trade, education policy, and national security, Ambassador Roemer is a trusted consensus-builder, problem solver and international expert.
In 2009, he was appointed by President Obama to serve as U.S. Ambassador to India, one of America's largest diplomatic missions. He oversaw the signing of the Counterterrorism Cooperation Initiative, which broadened U.S. – India coordination in intelligence, homeland security, border security, money laundering, and terrorist financing. Ambassador Roemer strengthened U.S. cooperation with India in technology transfers and sales in the defense and space industries.
Ambassador Roemer was appointed by U.S. Secretary of Defense Austin to serve on the Board of Visitors of National Defense University National Defense University (ndu.edu). NDU is the nation's premier institution of advanced training and education of senior military and civilian officers as they transition to strategic responsibilities at the highest levels within the US government and business and Industry.
Ambassador Roemer was an early endorser of President Obama and President Biden and actively supported both successful campaigns. He has participated regularly in TV interviews with CNN, MSNBC, Bloomberg News, NDTV, IndiaToday, CNBC, Voice of America, and other outlets in which he has spoken on U.S. political issues and foreign affairs.  He has contributed numerous articles and op-eds to the Washington Post, New York Times, Wall Street Journal, USA Today, and South Bend Tribune on domestic and international issues.  
Earlier, Ambassador Roemer proudly served for 12 years in the United States Congress as Representative for Indiana's 3rd Congressional District. Coming from a family of educators, he fought to improve access, standards, and achievement for American education. He was known for his bipartisan work on getting laws passed and for his insights on the Intelligence Committee. Ambassador Roemer was appointed to serve on the 9/11 Commission and helped pass the Commission's recommendations into law. Later, he was a member of the Washington Institute for Near East Policy's Presidential Task Force on Combating the Ideology of Radical Extremism, the 21st Century National Parks Commission, the Commission on the Prevention of Weapons of Mass Destruction Proliferation and Terrorism, and the 9/11 FBI Review Commission.
Ambassador Roemer is a member of the Aspen Institute's US-India Strategic Dialogue, and a board member of the US India Strategic Partnership Forum (https://usispf.org/). He is also a strategic adviser to Issue One (https://issueone.org/ ), a non-profit organization working on a non-partisan basis to address the insidious impact of big money on American democracy. Ambassador Roemer is a member of the board of advisors of More Perfect, an initiative of the Partnership for American Democracy, a national campaign to align American citizens and institutions around a shared vision for our democracy.  Since 2018, he has participated in annual U.S.-China Track II Strategic Dialogues, at which leading U.S. and Chinese experts discuss current political and economic issues of critical importance to the bilateral relationship. 
He completed his bachelor's degree at the University of California at San Diego (UCSD). He earned a master's and a doctoral degree in American government from the University of Notre Dame, with his dissertation on: "The Senior Executive Service: Retirement and Public Personnel Policy". Both institutions have recognized his achievements with distinguished alumnus awards, including the "WaveMaker" 2022 award from UCSD.
Ambassador Roemer is married to Sally Johnston Roemer. They have four children, Patrick, Matthew, Sarah, and Grace and live in Great Falls, Virginia and attend St. Thomas à Becket Catholic Church. The Roemers have two rescue dogs named Hoosier and Willie. He collects first edition books and overpriced baseball cards.