USADA CEO Travis T. Tygart testified before the Commission on Security and Cooperation in Europe, a Congressional Committee also known as the "Helsinki Commission", today during a hearing on "The State of Play: Globalized Corruption, State-Run Doping, and International Sport." Recognizing that doping devalues sport, robs athletes and sponsors, and contributes to global corruption, the hearing addressed how the United States can legally penalize doping and corruption in sport, as it does with other instances of international crime. The Rodchenkov Anti-Doping Act, a bipartisan legislation introduced by Commissioners Rep. Sheila Jackson Lee (TX-18) and Rep. Michael Burgess, M.D., (TX-26) seeks to implement criminal penalties for doping at major international competitions.
In addition to Tygart's testimony on the global impact of doping, U.S. Olympian Katie Uhlaender testified about the personal impact of doping, including the moment she lost on the podium that could have changed the course of her career. The hearing also included testimonies from the whistleblowers who helped uncover Russia's expansive and methodical state-run doping scheme, Yuliya Stepanova, a former Russian Olympian, and Jim Walden, the attorney for Dr. Grigory Rodchenkov, the former head of Russia's anti-doping laboratory. Dagmar Freitag, Chairwoman of Sports Committee of the German Bundestag, also discussed Germany's successful efforts to criminalize doping.
Tygart's testimony can be found here.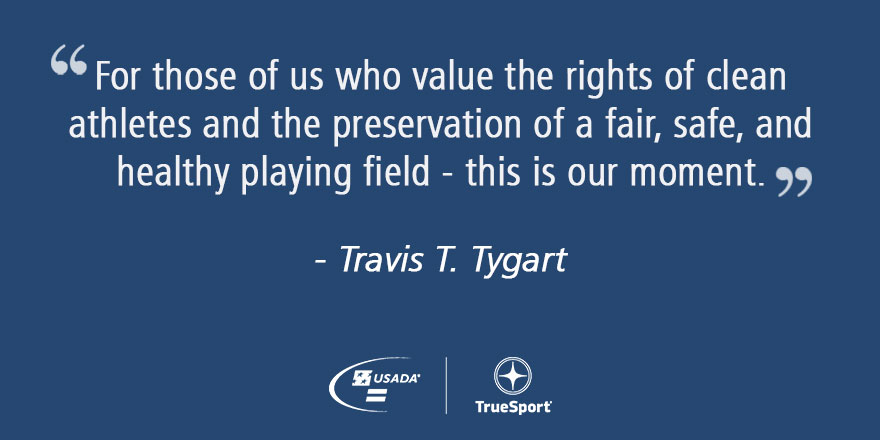 ---
For more information or media inquiries, click here.