Athletes subject to anti-doping rules have to be continuously vigilant about the products they use, especially when it comes to supplements. Some supplement manufacturers look to increase the effectiveness and marketability of their products by using illegal substances, like meclofenoxate, and those supplements do make it to store shelves because supplements are regulated post-market.
Learn more about this prohibited substance here:
What is meclofenoxate?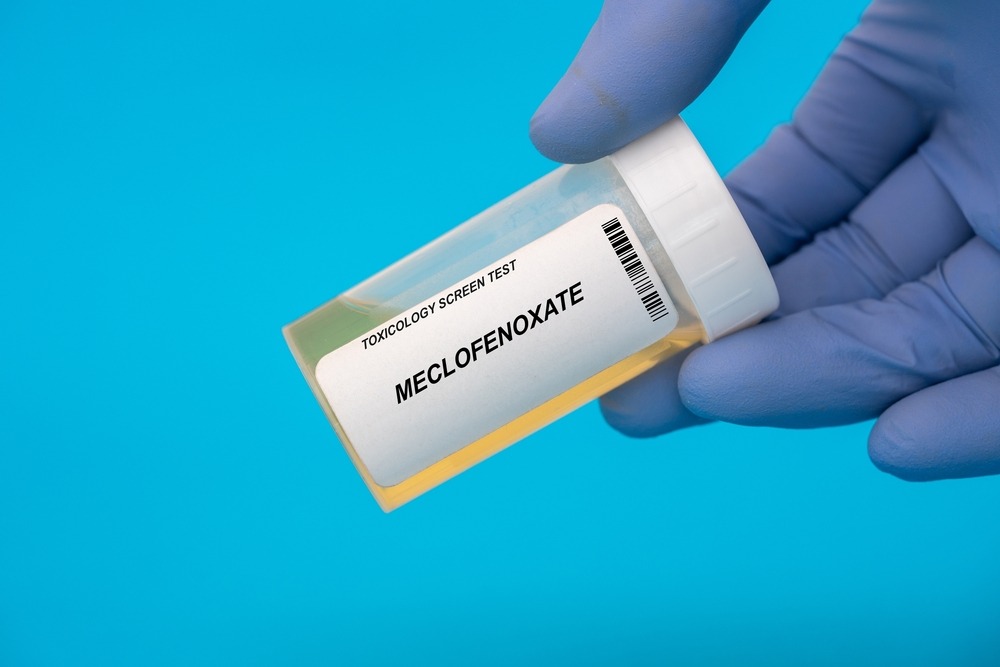 Meclofenoxate, also known as centrophenoxine, is a prohibited stimulant on the World Anti-Doping Agency Prohibited List.    
Meclofenoxate has been evaluated for effectiveness in treating movement disorders associated with Alzheimer's, Parkinson's, and the side effects of some anti-psychotic medications. However, a review of the results of many studies could not detect an effect of meclofenoxate on this condition 2.
Numerous studies over the last 40 years have also evaluated the effects of meclofenoxate on aging by looking at models of the aging brain and nervous system. Some studies suggest meclofenoxate might have some influence on certain mechanisms associated with aging, whereas other studies do not show such effects, so the effects of meclofenoxate on neuronal health and aging is not yet clear. Even so, dietary supplement companies sometimes market this ingredient as a "nootropic" or a "cognitive enhancement" supplement, or in products to treat the cognitive signs of aging.
Meclofenoxate should not be confused with meclofenamate, which is a nonsteroidal analgesic (NSAID) veterinary drug. 
Is meclofenoxate prohibited in sport? 
Yes, meclofenoxate is prohibited in-competition under the WADA Prohibited List as a stimulant. 
Are there currently any medical uses for meclofenoxate? 
There are a few countries that have approved meclofenoxate as a medication. Lucidril is approved in Japan to treat vertigo due to head trauma. In China, meclofenoxate is approved to treat alcohol poisoning, low oxygen at birth, and children's enuresis 3. There are reports of historical use of this substance as a drug in other countries. 
In the United States however, it is not approved for any medical purposes and there are no FDA-approved medications containing meclofenoxate. 
Can you get meclofenoxate as a dietary supplement? 
Yes, but probably not legally. This substance has a history of use as a drug, and there does not appear to be a history of meclofenoxate in the food supply, which are two important criteria the FDA uses to determine whether something can be sold as a supplement. Thus, the FDA would most likely declare that it is not a legitimate dietary ingredient.  
Currently, the Supplement Connect High Risk List identifies several products marketed as dietary supplements that claim to contain this substance, and recent studies have demonstrated the presence of meclofenoxate (centrophenoxine) in products marketed as supplements 4 5.  
Can you get a TUE (Therapeutic Use Exemption) for meclofenoxate? 
It is unlikely that a TUE for meclofenoxate would be granted since there are no FDA-approved uses for this drug in the United States. 
More questions?
For questions about specific products, substances, and methods, contact USADA's Drug Reference Line at drugreference@USADA.org or call (719) 785-2000, option 2. There is also a TUE Pre-Check Form that athletes can submit to get a quick response on whether a TUE is necessary.
More education?
In addition to educating athletes and offering real-time support, USADA offers resources and tutorials for athlete support personnel, including health professionals and coaches.
References 
van Harten PN, Tenback DE. Tardive dyskinesia: clinical presentation and treatment. Int Rev Neurobiol. 2011;98:187-210.
Tammenmaa IA, Sailas E, McGrath JJ, Soares-Weiser K, Wahlbeck K. Systematic review of cholinergic drugs for neuroleptic-induced tardive dyskinesia: a meta-analysis of randomized controlled trials. Prog Neuropsychopharmacol Biol Psychiatry. 2004;28(7):1099-1107.
Zou JJ, Ji HJ, Wu DW, et al. Bioequivalence and pharmacokinetic comparison of a single 200-mg dose of meclofenoxate hydrochloride capsule and tablet formulations in healthy Chinese adult male volunteers: a randomized sequence, open-label, two-period crossover study. Clin Ther. 2008;30(9):1651-1657.
Cohen PA, Avula B, Khan I. The unapproved drug centrophenoxine (meclofenoxate) in cognitive enhancement dietary supplements. Clin Toxicol (Phila). 2022;60(10):1156-1158.
Jedrejko K, Catlin O, Stewart T, Anderson A, Muszynska B, Catlin DH. Unauthorized ingredients in "nootropic" dietary supplements: A review of the history, pharmacology, prevalence, international regulations, and potential as doping agents. Drug Test Anal. 2023.