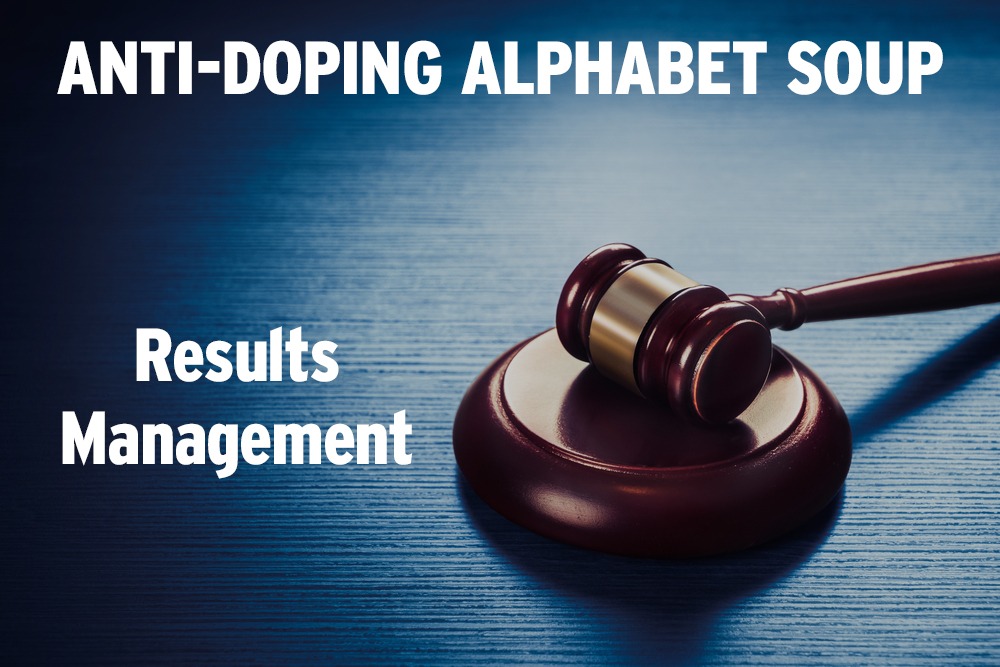 In the news, you may have encountered the "alphabet soup" of the anti-doping world. From acronyms like ADRV and AAF, to terms like provisional suspension and non-analytical, it can be difficult to understand the terminology and what it truly means. One of the most newsworthy areas of anti-doping – results management – is often where the lingo and rules become the most technical and the most scrutinized.
With that in mind, here are definitions and explanations for some of the key terms used in results management.
Results Management
To start, what is results management? Results management is the process that begins when USADA receives the results of a urine or blood test from a laboratory, or it receives information about a possible rule violation. In total, results management encompasses the initial review and notification of potential anti-doping rule violations (ADRVs), the enforcement of provisional suspensions, any assertion of anti-doping rule violations and the proposed consequences, and any related hearing processes.
The United States Anti-Doping Agency (USADA) is responsible for the results management and adjudication process for the U.S. Olympic and Paralympic movement in the United States. As a signatory to the World Anti-Doping Code (the Code), USADA adheres to rules created and maintained by the World Anti-Doping Agency (WADA) that are designed to harmonize anti-doping rules around the world. In addition to the Code, USADA adheres to the WADA Prohibited List and a number of international standards, including the International Standard of Results Management.
Adverse Analytical Finding (AAF)
Most of the cases that result in a rule violation stem from an Adverse Analytical Finding, or AAF. An AAF is a report from a WADA-accredited laboratory that identifies the presence of a prohibited substance and/or its metabolites or markers in a sample. This is commonly referred to as a positive test.
When one or more prohibited substances are detected in an athlete's A sample, USADA receives a report from the laboratory and then issues a notice to the athlete, the athlete's National Governing Body (NGB), the United States Olympic & Paralympic Committee (USOPC), the athlete's International Federation (IF), and WADA. The athlete has the option to proceed with the B sample analysis at the lab if they choose, and they and/or their representatives have the right to attend the processing of the B sample. Once the B sample finding is received by USADA, a copy is sent to the athlete, NGB, USOPC, IF, and WADA.
Non-Analytical Case
Unlike an AAF, a non-analytical case does not stem from a positive urine or blood sample, but instead originates from, and is substantiated by, other evidence of doping or violations by an athlete or athlete support personnel. For example, an ADRV that is considered non-analytical may stem from an investigation based on a confidential tip to a hotline.
Non-analytical ADRVs can be important because these types of cases and investigations have led to the discovery of large performance-enhancing drug (PED) trafficking operations, as well as the use of new designer drugs or doping methods that are harder to detect through testing. These types of cases, which are built on evidence other than a positive drug test, are called "non-analytical" cases because they do not start with laboratory analysis of a sample.
Here is more information on non-analytical cases.
Provisional Suspensions
A provisional suspension is imposed after an athlete tests positive for a prohibited substance or method, or is alleged to have committed an anti-doping rule violation. According to the Code, a provisional suspension means an athlete or other person is barred temporarily from participating in any competition or activity until their case has been resolved.
Under the 2021 USADA Protocol, provisional suspensions will be automatically imposed in all cases. In non-analytical cases and cases involving only Specified Substances, the athlete or athlete support person can opt out of the provisional suspension if desired.
Specified and non-specified substances and methods
While an ADRV resulting from a positive test for a non-specified substance generally carries a standard sanction of four years of ineligibility for a first violation and a loss of results; the standard sanction is two years for an athlete who tests positive for a Specified Substance.
On the Prohibited List, the following are considered Non-Specified Substances:
Anabolic agents
Peptide hormones, such as erythropoiesis-stimulating agents (ESAs)
Growth hormone, growth hormone releasing peptides (GHRPs) and related substances, and mimetics
Certain hormone and metabolic modulators, such as agents modifying myostatin function(s) and insulins
Non-specified stimulants
Any remaining substances on the WADA Prohibited List are considered Specified Substances.
All prohibited methods are Non-Specified, except methods of intravenous infusions and/or injections, which are Specified Methods. Specified Substances and Methods should not in any way be considered less important or less dangerous than other doping substances or methods. Rather, they are substances and methods that are more likely to have been consumed or used by an athlete for a purpose other than the enhancement of sport performance.
Court of Arbitration for Sport (CAS)
When an athlete is charged with an ADRV, they can either accept the sanction or request a hearing before an independent arbitral body or, if the athlete, USADA and WADA agree, directly to CAS. Otherwise, the athlete, USADA, WADA, and the IF, always have the ability to appeal a decision to CAS. CAS is an independent institution that provides arbitration or mediation services to settle sports-related disputes. Based in Lausanne, Switzerland, CAS regularly mediates disputes on ADRVs and other sport-related matters.
Although rare, once CAS issues its verdict, parties may further appeal to the Federal Supreme Court of Switzerland. At any point during the results management process, an athlete can choose to accept a sanction.