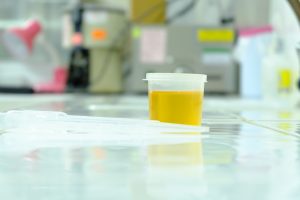 In the fight against doping in sport, USADA is using newly developed and cutting-edge detection methods to retest stored urine samples for prohibited substances, including a newly-abused blood booster.
A new class of drugs, called HIF-stabilizing agents, mimic the natural response to hypoxia, or insufficient oxygen, and result in increased production of red blood cells (RBCs). While a number of related pharmaceutical products are being developed to assist in the treatment of legitimate diseases, such as anemia, these same agents can be abused in sport. Athletes can use these products to increase their red blood cell count, which is a very effective doping technique that increases the delivery of oxygen to working muscles to increase endurance performance.
One such blood boosting drug is called FG-4592 (Roxadustat), a HIF-stabilizer currently in clinical trials, but not approved for human use. HIF-stabilizers like FG-4592 increase oxygen-carrying capacity bypassing traditional low oxygen sensing pathways, resulting in the increased expression of native erythropoietin (EPO). Traditionally, dopers have used injections of recombinant EPO or erythropoiesis stimulating agents (ESAs) for performance-enhancement. All HIF-stabilizers, like other forms of blood-doping, have been banned by the World Anti-Doping Agency (WADA).
Based on several tips about athlete abuse of FG-4592, USADA helped launch research at the SMRTL and Cologne WADA-accredited laboratories to develop a mass spectrometry-based method for FG-4592 detection. With this technology, USADA recently retested 61 urine samples that had been frozen following initial analysis in 2011. All of the 61 stored samples from U.S. athletes were negative for FG-4592 upon retesting, although globally a number of athletes have tested positive, including a race walker in France and a Chilean cyclist from the 2015 Pan Am Games.
Urinary drug tests have also proven effective at detecting HIF-stabilizers, and ongoing advances in detection technology have resulted in longer detection windows, enabling USADA to more effectively and routinely screen for HIF-stabilizers and retest frozen samples as part of its detection and deterrence-based anti-doping strategy.