Doping Control Officers (DCOs) are some of the most critical and influential people in the anti-doping process, responsible for ensuring that the sample collection process is secure and as comfortable as possible for athletes. In addition to testing, DCOs have the most direct and consistent interaction with athletes, so they often act as a resource to athletes in the field and transmit their feedback to inform and improve the anti-doping process.
While many athletes already know him, keep reading to learn more about one of USADA's most veteran DCOs and Regional Team Leads (RTLs), Arnold Thomas.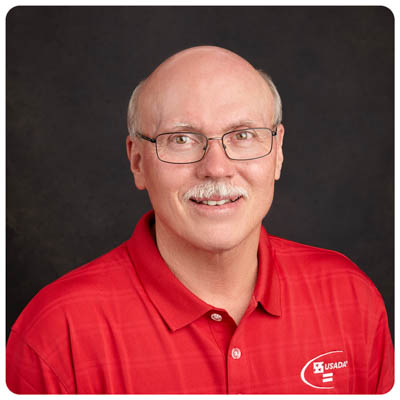 I had been with the United States Olympic and Paralympic Committee's drug testing team until 2000, which is when USADA was founded. I believe there were about 100 Crew Chiefs that worked for the USOPC, but in the transition to USADA, about 75 of us moved over.
So, I've been here since day one, which is a total of 18 years and nine months!
I was an athlete in high school and college before becoming the Head Athletic Trainer at Cy-Fair High School in Cypress, Texas. That led me to become part of the medical staff for the 1992 Olympic Games in Barcelona. After that, I migrated to doping control.
With my athletic and training background, I feel very comfortable around athletes and have worked to learn something about every sport, which makes it easy to talk to the athletes.
A lot of the motivation comes from meeting and watching athletes grow, mature in their sport, and reach the goals that they have set for themselves. It's extremely motivating to know I am helping make the playing field equal for those athletes.
It is really and truly a title that I respect and do my best at every day. I have trained about one third of the DCOs at USADA and I strive for the respect of DCOs in all regions. Being an RTL means I am a DCO with my phone on 24/7 to help any DCO needing assistance during testing. 
It doesn't matter if it's a small or large event, the approach is the same. I work with the event site coordinator on what they will need to provide for us, do a site visit the day before the event, and send out the event information to the crew. In the end, it all comes down to the crew because they are the ones in the Doping Control Station, while I'm outside making sure the correct athletes are notified for testing. Both large and small events can be challenging, but it always takes TEAMWORK to have a successful event.
It can be challenging to know how much to tell an athlete because you don't want to be wrong, but I always try to point them in the right direction. When I'm testing an athlete and they have questions about medications, for example, I get my iPad or ask them to use their laptop and go to GlobalDRO.com. I explain how to use the app and help them find the medication they asked about to see if it is banned or not. I also show them Supplement 411 and always give them the Athlete Express number, which will connect them to the staff member who can best answer their question(s). And when I am leaving, I always remind the athlete to update his or her Whereabouts if they are traveling to a different location.
It's easy for me because professionalism is my top priority at all times, which means respecting the athlete's privacy as much as possible and maintaining the integrity of the sample collection process.
At first, I think athletes were skeptical of the testing process. But perceptions started to change once they saw that no matter which DCO tested them, the process was the same. As the labs became able to test for more substances and athletes saw that cheating athletes were being sanctioned, they also became more receptive to the testing process and now many welcome a visit by USADA.
Without a doubt, it is the interactions with the athletes. It's completing the first out-of-competition test on an athlete and then testing them throughout their career. It's watching them reach goals, set records, and start families. While the professional boundaries are always there, I get to be a part of their journey. I also love the moments when athletes thank us for being at events because they know we're working to make the playing field level for everyone.