What is food-first nutrition?
Every athlete wants to reach their peak performance, which often means pushing harder and longer in training and in competition. In the quest to reach their maximum potential, many athletes know that good nutrition is critical, but they may also look to the latest supplements and trendy diet regimens to give them that extra boost.
Some athletes, on the other hand, have found that a food-first approach is all they need to achieve peak performance. While some athletes may need to supplement their dietary intake because of a medical condition, many athletes can properly fuel their bodies and meet all their bodies' needs with the right food.
In the Food-First Nutrition series, Olympians, Paralympians, and elite athletes share how they maintain the strength and energy they need to compete at the highest levels of sport through a food first approach. For more information on the best foods for athletes, check out the TrueSport Nutrition Guide.
From Greta: My Go-To Foods for Recovery
As a Paralympian, I usually did my training in the morning, so I needed to start the day with foods that would set me up for a good workout and good recovery. I'd often have a breakfast of oatmeal with peanut butter and banana in it, or oatmeal with peanut butter and maple syrup. The oatmeal was a solid base, and I also got a bit of protein from the peanut butter, and some sweetness from the banana or maple syrup. Other times, I would have yogurt and granola with a bunch of berries in it. Also, coffee.
While training, one of my go-to recovery foods was a classic peanut butter and jelly sandwich (PB&J), although varieties with PB&Banana or PB&Honey were also accepted sometimes. I think that the PB&J is WAY more than just a kid sandwich…it's brought me back from the brink of exhaustion on multiple occasions! More specifically, PB&Js have a good amount of fat, carbs, and protein that bring you back to life and hold you over until meal time after a hard workout or race. My personal favorite is a PB&J with a hearty seeded bread, creamy peanut butter, and a fruit-heavy jam. This go-to snack also packs well and fits perfectly in a jersey pocket, so it makes great (and cheap!) ride food.
After training, I'd always try to get some food in my body within 30 minutes to stay on top of recovery. In addition to the PB&J, I'd have a bottle of water or an electrolyte mix to help rehydrate after training.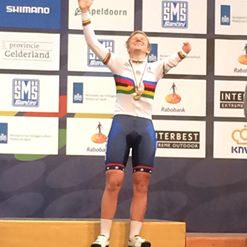 About Greta Neimanas
After a visit to the 2004 Paralympic Games in Athens, Greta Neimanas began her own journey to the Paralympics as a track cyclist and soon after made it to the 2008 Paralympic Games in Beijing. Four years later, she competed at the Paralympic Games in London. In addition to being a two-time Paralympian, Greta is a two-time World Champion in track cycling.