I can't say I always loved my vegetables…I'm sure I was just like any young kid pushing the broccoli to the corner of my plate. But since I've gotten older and my palate has changed, I've developed a love for them! I've also come to understand and appreciate just how good they are for you.
As an Olympian in a high intensity sport, my approach to veggies these days is eating them all day, every day! That means I'm pretty much eating vegetables with every meal. Most days, that looks like spinach and mushrooms with eggs for breakfast, along with salads or power-bowls for lunch and dinner. This plan works regardless of my training and competition schedule because I know to keep it simple before activity and to reduce anything spicy or super flavorful. I go with combinations that sit well with my stomach, like a standard protein, plain vegetables, and brown rice.
Since I'm eating veggies so much, it's also important for me to prepare and incorporate veggies into my diet easily and creatively. One of the easiest ways I get my veggies is by eating them raw! I often dip carrots, celery, broccoli, and cucumbers in hummus, which is especially delicious when it's homemade. I also cook my veggies, since there are lots of ways to quickly make veggies that are both healthy and tasty, including grilling, steaming, or roasting them. If you typically don't like veggies, give these different ways a try because you might find that oven roasting certain vegetables, for example, changes their taste a lot and brings out new flavors! You can also hide the taste of veggies, or get them on the go, by blending things like spinach and other leafy greens into smoothies.
With this approach to veggies, I can get all the nutrients I need to feel and perform well!
What is food-first nutrition?
Every athlete wants to reach their peak performance, which often means pushing harder and longer in training and in competition. In the quest to reach their maximum potential, many athletes know that good nutrition is critical, but they may also look to the latest supplements and trendy diet regimens to give them that extra boost.
Some athletes, on the other hand, have found that a food-first approach is all they need to achieve peak performance. While some athletes may need to supplement their dietary intake because of a medical condition, many athletes can properly fuel their bodies and meet all their bodies' needs with the right food.
In the Food-First Nutrition series, Olympians, Paralympians, and elite athletes share how they maintain the strength and energy they need to compete at the highest levels of sport through a food first approach. For more information on the best foods for athletes, check out the TrueSport Nutrition Guide.
About Meghan Duggan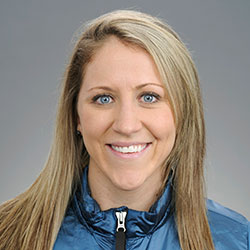 A three-time Olympian in Women's Ice Hockey, Meghan Duggan has helped Team USA bring home three Olympic medals, including a gold medal from the 2018 Olympic Winter Games in PyeongChang and silver medals from the 2010 and the 2014 Olympic Winter Games. She has also served as the team's captain and helped secure seven gold medals and one silver medal by competing in eight World Championships over the course of her career.