What is food-first nutrition?
Every athlete wants to reach their peak performance, which often means pushing harder and longer in training and in competition. In the quest to reach their maximum potential, many athletes know that good nutrition is critical, but they may also look to the latest supplements and trendy diet regimens to give them that extra boost.
Some athletes, on the other hand, have found that a food-first approach is all they need to achieve peak performance. While some athletes may need to supplement their dietary intake because of a medical condition, many athletes can properly fuel their bodies and meet all their bodies' needs with the right food.
In the Food-First Nutrition series, Olympians, Paralympians, and elite athletes share how they maintain the strength and energy they need to compete at the highest levels of sport through a food first approach. For more information on the best foods for athletes, check out the TrueSport Nutrition Guide.
From Sophia: My Favorite Sweet Training Foods
Everyone is different, but many of us, athletes included, have a sweet tooth that we can't completely ignore. And sometimes we don't have to! There are plenty of foods out there that are both sweet and healthy, so you can satisfy your sweet tooth any time of day, even when you're training and competing, while still getting lots of nutrients, protein, and energy.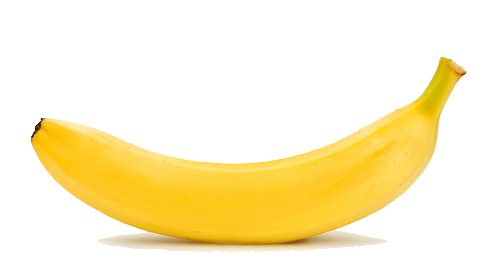 For athletes, it's especially important we satisfy that sweet tooth with foods that are good for our bodies, which is why I start my day with a banana before every morning practice. It's sweet and it gives me a good amount of potassium. It's also filling, without being too heavy, and it's easy to eat while walking to the pool.
I've found that small meals and snacks throughout the day work best for me, otherwise I feel lazy or sick when I'm trying to train three times per day. A small meal before or after training that keeps me going and satisfies my sweet tooth is a PB&J. Both the peanut butter and jelly (or fruit preserves) are savory and sweet, and the combination of the ingredients keeps me satisfied for longer.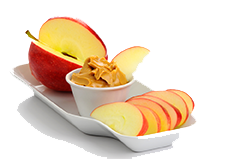 I love peanut butter, so when it comes to snacking, one of my favorites is Pink Lady apples and peanut butter. It's like eating a candy bar! If you're not into peanut butter, another good option is a green juice with lots of veggies. I'm not a big fan of salads, so I drink green juices to get my veggies and nutrients. Carrots and hummus are also a healthy snack that's light but filling.
Even though I typically go for sweet snacks that keep me fueled and healthy for training, I do indulge in real desserts every now and then. My go-to guilty pleasure is a caramel apple from the Rocky Mountain Chocolate Factory and I get one apple a month!
For more nutrition recommendations for athletes, check out the TrueSport Nutrition Guide.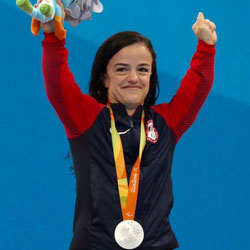 About Sophia Herzog
A resident of the Colorado Springs Olympic Training Center, Paralympian Sophia Herzog first made the national team in 2015 and won four medals at the 2015 Parapan American Games. She soon after competed in the 2016 Paralympic Games in Rio, where she went on to win a silver medal in the 100m breast stroke. Sophia has since won five medals at the 2017 World Championships, including two gold medals.