I've been competing in sled hockey for more than a decade, winning two Paralympic gold medals along the way, and I've definitely learned that if I eat badly, my performance suffers. Our team nutritionist recognizes this impact and encourages us to track what we eat and how we feel. It's easy: let's say one morning I had a sugary cereal for breakfast and notice that, "Man, I just don't have the energy that I do when I eat other things." Noticing and keeping track of things like that helps me meet my goals on the ice.
When it comes to portion sizes, I know how much of the different food groups I'm supposed to eat and it's really important that I adjust those portion sizes based on my activity level. When we're skating and I'm burning up to 1,400 calories a session, for example, I'll double up on carbohydrates, which means I need two handful-sized portions. I know my body doesn't need those larger portion sizes when I'm not at a camp or playing games, so then I only need one handful of carbs and one handful of protein.
There are so many factors at play – at 39 I can't eat the same as my 18-year-old teammates – and I know I have to keep track of my output to regulate my input. I wear a tracking watch and heart rate monitor, which helps me track calorie output and even helps me realize that I burn less doing the same workouts when I'm in better shape.
In general, here's my approach to portions sizes for breakfast, lunch, dinner, and snacking.
Breakfast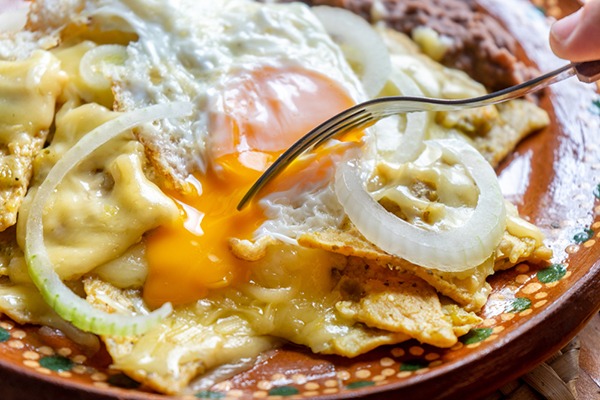 I usually do a big breakfast! A typical breakfast is half an avocado, two pieces of toast, and one egg with tomatoes, mushrooms, and spinach. Another favorite breakfast is corn tortillas with avocados and eggs. I always have to throw some kind of carbohydrate in there because I burn a lot just walking around on a prosthetic. On a big skating day, one of my favorite dishes is called chilaquiles, and that's two eggs, chopped up tortillas, salsa, and cheese. Even when I'm not training, I'll have a big breakfast and then follow that with a smaller lunch.
THE SCIENCE: Carbohydrate intake before and after exercise can help to restore sub-optimal glycogen stores, which is critical for prolonged periods of exercise. While allowing for personal preferences and physiological factors, the pre-event meal should be high in carbohydrates, non-greasy, and readily digestible. Adding small amounts of protein can aid in regulating energy levels by slowing down carbohydrate absorption, delivering the carbohydrates to the working muscles at a more consistent rate over time.
Lunch
My lunches tend to be smaller because I'm on the go. Lunch is usually a sandwich or maybe some soup, depending on my schedule.
Dinner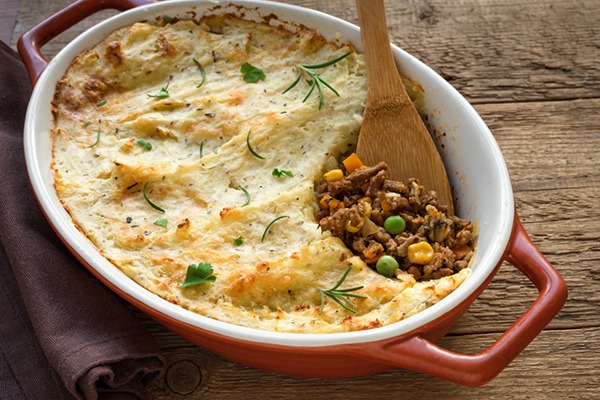 We go all out for dinner. Sometimes it's a big Shepherd's pie, or something in the crockpot, or rice or beans with some type of protein. For protein, we typically do chicken or beef. My wife is allergic to fish, so when I step out of the house, I'll also tear up salmon and all kinds of seafood.
Snacking
I try to keep my snacks pretty light by sticking to nuts or fruits like an orange or a grapefruit. I'm weak and I do love chips, but I try to stay away from them as much as I can.
About Rico Roman
A retired Army Staff Sergeant and Purple Heart recipient, Rico Roman found sled hockey in 2008 after his left leg was amputated in 2007 due to an explosion during his third tour in Iraq. He quickly established his aptitude for the sport, making the U.S. National Sled Hockey Team in 2011 and earning a spot on the Paralympic Team in 2014. As part of the 2014 team in Sochi, Roman took home a gold medal and soon followed that with another gold at the 2018 Paralympic Games in PyeongChang. He has also helped the United States bring home two gold medals and two silver medals from four world championships. Roman competes on both a national team and a club team.
What is food-first nutrition?
Every athlete wants to reach their peak performance, which often means pushing harder and longer in training and in competition. In the quest to reach their maximum potential, many athletes know that good nutrition is critical, but they may also look to the latest supplements and trendy diet regimens to give them that extra boost.
Some athletes, on the other hand, have found that a food-first approach is all they need to achieve peak performance. While some athletes may need to supplement their dietary intake because of a medical condition, many athletes can properly fuel their bodies and meet all their bodies' needs with the right food.
In the Food-First Nutrition series, Olympians, Paralympians, and elite athletes share how they maintain the strength and energy they need to compete at the highest levels of sport through a food first approach. For more information on the best foods for athletes, check out the TrueSport Nutrition Guide.