[vc_row][vc_column][vc_column_text]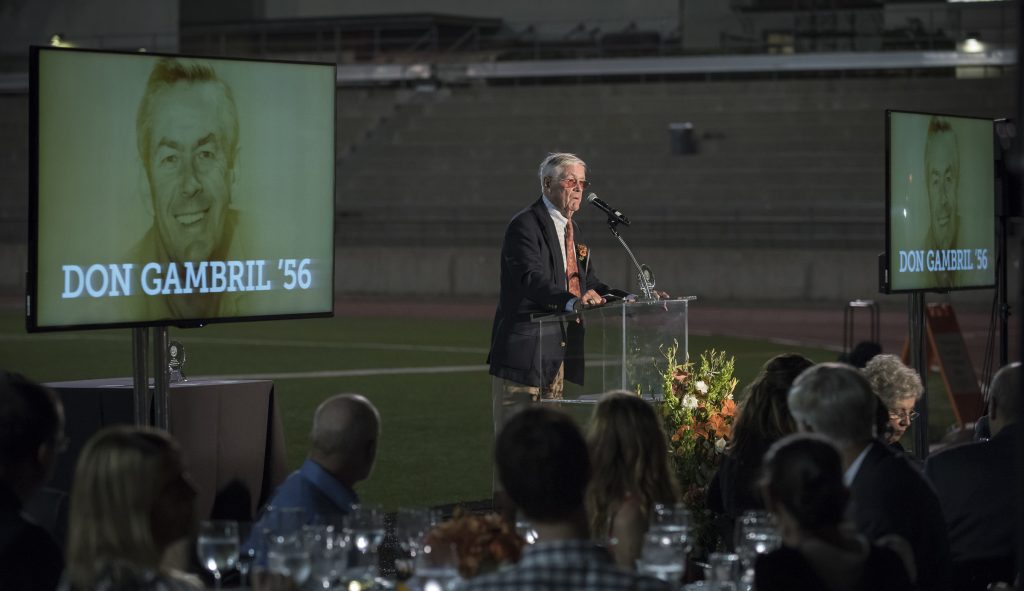 (USADA director Don Gambril being inducted in to the Occidental College Athletics Hall of Fame)
        Legendary swim coach Don Gambril, a member of the United States Anti-Doping Agency's Board of Directors, was inducted in to the Occidental College Athletics Hall of Fame on Friday, October 16. One of the best in the business for over 30 years, Gambril's most recent achievement marks his 11th career hall of fame induction.
"I feel honored," said Gambril, whose resume includes head coaching stints at Long Beach State, Harvard, Alabama and the U.S. Olympic Team. "It's very nice to see some familiar faces and to be able to spend time with some of my former swimmers. Looking back, I feel very fortunate to have attended Occidental. I reflect back on my days there fondly."
Gambril enrolled at Occidental – a private liberal arts college in Northeast Los Angeles – as a sophomore after developing an interest in both swimming and football while a student at a nearby junior college. After completing his undergraduate studies at Cal State LA, he found his calling as a swimming coach in the collegiate ranks, with successful stints at Long Beach State (1967-71), Harvard University (1971-73), and most notably the University of Alabama (1973 until his retirement in 1990). During Gambril's collegiate coaching career, his teams won five national titles and 16 league championships.  Gambril was an assistant coach for the U.S. Olympic swim team in 1968, 1972, 1976, and 1980, and served as head coach of the 1984 Olympic Team in Los Angeles. The Olympic swimmers Gambril coached, which include Mark Spitz and Sharon Stouder, won a total of 14 gold medals and broke 20 world records. Gambril was an inaugural nominee into the Occidental Aquatics Hall of Fame in 1996, a 1983 inductee into the International Swimming Hall of Fame, and received the USA Swimming Award that same year.
Other notable achievements in Gambril's career include: Five time SEC coach of the year; 1 NCAA College Division Championship; Four top 5 NCAA Championships finishes; coach to over 114 All-Americans; American Swim Coaches Association "Coach of the Year" in 1984; Professor and Assistant Director of Athletics at Alabama University (retired in 2010) . Gambril has been a longtime proponent for clean athletes, serving with distinction on the USADA board since 2006.
"Our entire organization is very proud of what Don has accomplished," said USADA CEO Travis Tygart. "His care for athletes, leadership and willingness to give back to others in service to fair play is first-rate. Don is a great advocate for clean sport and we're thrilled to see him be recognized for his efforts."
[/vc_column_text][/vc_column][/vc_row]