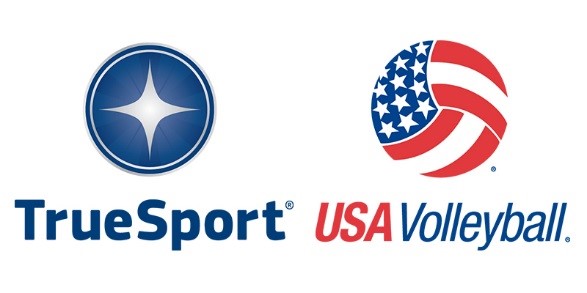 TrueSport, a movement powered by the U.S. Anti-Doping Agency (USADA), is pleased to announce its third year of partnership with USA Volleyball High Performance National Team Program.
Together, TrueSport and USA Volleyball will provide values-based curriculum and education on the sport of volleyball to over 1,500 youth and high school athletes across the country. Throughout the programs, each athlete varying in age and skill will learn about topics such as, leadership, goal-setting, teamwork, and nutrition, and have the chance to meet a TrueSport elite athlete ambassador. Each child and parent will be encouraged to take the TrueSport pledge and uphold the values of courage, respect, teamwork, integrity, and responsibility.
"This program allows us to teach our future Olympians the lessons that will guide them on the path to their Olympic dreams, but it also sets them up to be leaders in the real world," said Denise Sheldon, USA Volleyball indoor high performance manager.
"Using sport as a catalyst for teaching life lessons is what competing for Team USA is all about, and TrueSport facilitates the life training that our players receive, on and off-the-court."
"We are elated to continue our partnership for the third straight year with USA Volleyball's High Performance National Team Program. This excellent program is the perfect platform to provide TrueSport values and education to 1,500 aspiring athletes," said Lisa Voight, TrueSport business development manager.
Camps:
S. Youth and Junior National Teams
USA A1 National Training Team Programs: Junior, Youth, Select
USA National A2 Invitational Team Programs: Junior, Youth, Select
USA National A3 Training Programs: Youth, Select
USA National Skills Programs: Select, Future Select
USA Future Select National Training Program
USA Volleyball High Performance National Team Prospect Training Blocks: Youth, Select (Winter)
USA Region Prospect Training Blocks: All ages (Winter)
For more details on the TrueSport and the USA Volleyball Camps partnership, visit us at TrueSport or USA Volleyball.
USA Volleyball Contact