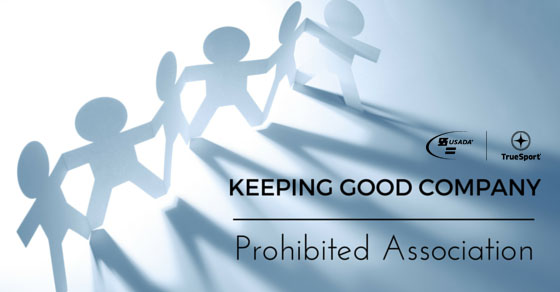 Athletes…you train day in and day out, and you have countless people helping you along the way. But, do you know who is really in your corner? Do they have your best interests at heart? Have you ever felt pressured to move forward in a direction that made you uncomfortable?
What is the Prohibited Association Rule?
The World Anti-Doping Agency (WADA) recognizes that athletes who want to cheat typically do not do so alone. More often than not, there are people alongside them encouraging and aiding them in their cheating practices. In order to help stem this tide and protect competitors from people who would use their position of power or influence to prey on athletes, the 2015 World Anti-Doping Code prohibits an athlete from KNOWINGLY getting assistance from coaches, trainers, physicians, or other athlete support personnel who are sanctioned and/or criminally convicted of doping. Some examples of assistance include obtaining training, nutrition, or medical advice, and/or allowing the individual to serve as an agent or representative.
There are three types of Prohibited Association:
Associating with an athlete support person who is serving a period of ineligibility or any type of sanction related to performance-enhancing drugs;
Associating with someone who has been convicted or found in a criminal, disciplinary, or professional proceeding to have engaged in conduct which would have constituted an anti-doping rule violation under the World Anti-Doping Code; or
Associating with someone who is serving as a front or intermediary for an individual described in #1 or #2 above.
Why was it enacted?
The Prohibited Association rule was introduced in the 2015 World Anti-Doping Code as a means of ensuring that athletes or other parties who have committed anti-doping rule violations do not try and gain a position of power in an athlete support role. The Prohibited Association rule, as stated by WADA President, Sir Craig Reedie, "…sends a clear message to athletes: do not association with individuals that have breached anti-doping rules as they could encourage you to cheat the system and to rob your fellow athletes of their right to clean sport."
What is the penalty for violating the rule?
First and foremost, it is important for athletes to realize that they are not in violation of the Prohibited Association rule unless they are notified of the prohibited association and then KNOWINGLY continue on with the professional sport relationship.
With respect to the possible penalties, a violation of the Prohibited Association rule may result in:
Up to a two-year period of ineligibility for the non-sanctioned athlete who knowingly associates with someone who would be in violation of this rule.
A new period of ineligibility, equal in length to their original period of ineligibility, added to the end of their original period of ineligibility, for a sanctioned athlete who violates this rule.
Of course, before any punishment is imposed, both the sanctioned and non-sanctioned athlete would be given an opportunity to explain why he or she believes that their conduct does not constitute a violation of the Prohibited Association rule.
The spirit of the Prohibited Association rule is intended for those who are advising athletes on how to use drugs or distributing drugs to athletes. The rule is not intended for athletes who are using PEDs themselves and get caught. In order to protect the integrity of sport, all athletes and athlete support personnel are encouraged to be aware of who they are associating with when it comes to their athletic careers.
Click here for a list of athlete support personnel currently sanctioned.