While I haven't always prioritized my nutrition as much as I do now, I think fueling is key to athletic success and doing it naturally is always healthier than relying on shortcuts like supplements and energy drinks. With access to high quality foods, I've found that these products aren't necessary.  
Even before I really started focusing on nutrition during my junior year of college, I never used energy drinks. In my research, I found that there's a lot of ingredients that I don't recognize in most energy drinks, which tends to be risky from both a health perspective and an anti-doping perspective.
Even though I don't use energy drinks, I DO need an energy boost most days, like many people do. My energy typically dips around 2-3 p.m. every day and that's when I know it's time for a snack that will give me a boost.
THE SCIENCE: Several energy systems in the body can provide athletes with fuel as long as they are consuming the proper foods. One energy system relies totally on carbohydrates while another uses carbohydrates as well as fats. When an athlete works near or at maximal intensities, carbohydrates are the prime fuel the body can use.
Here are my top three foods for energy that are better than an energy drink:
1. Fruits and veggies, such as bananas and carrot sticks
2. Quick carbs like white rice, oats, and potatoes
3. A classic peanut butter and jelly
The veggies and quickly digested carbs are what nutritionists have recommended to me for energy, while the PB&J is something I've always relied on for a quick boost of energy. It has everything – the quick carbs, healthy fat, and fruit for some natural sugar. If all else fails, I'm also a huge fan of coffee for an energy boost!
THE SCIENCE: Consuming carbohydrates during workouts lasting more than one hour can also benefit performance and delay onset of fatigue. Studies have shown that athletes who participate in intermittent sports, such as basketball and soccer, should also focus on consuming more carbohydrates during training and competition. This is not surprising since it is well-known that carbohydrates, when compared to protein and dietary fat, are the most efficiently broken down and metabolized form of energy for the body.
About Ryan Murphy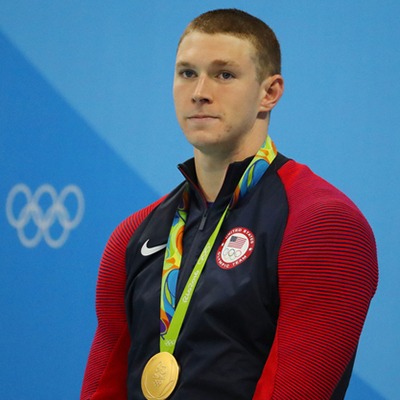 A three-time Olympic gold medalist, swimmer Ryan Murphy claimed his medals in the 4×100 medley, 100 backstroke, and 200 backstroke at the 2016 Rio Olympic Games. Murphy has also achieved success at numerous World Championships, including several silver medals in 2019 and three gold medals in 2018. In 2011, he took home a bronze from the Pan American Games.
What is food-first nutrition?
Every athlete wants to reach their peak performance, which often means pushing harder and longer in training and in competition. In the quest to reach their maximum potential, many athletes know that good nutrition is critical, but they may also look to the latest supplements and trendy diet regimens to give them that extra boost.
Some athletes, on the other hand, have found that a food-first approach is all they need to achieve peak performance. While some athletes may need to supplement their dietary intake because of a medical condition, many athletes can properly fuel their bodies and meet all their bodies' needs with the right food.
In the Food-First Nutrition series, Olympians, Paralympians, and elite athletes share how they maintain the strength and energy they need to compete at the highest levels of sport through a food first approach. For more information on the best foods for athletes, check out the TrueSport Nutrition Guide.